Samsung has just launched two versions of their mobile tablets in Indian market – The Galaxy Tab 730 (same as Tab 8.9) and The Galaxy Tab 750 (same as Tab 10.1) at an event in Delhi. The Indian actress Lara Dutta was at the Samsung Tab launch event where she shared her thoughts about the new Tab and has a discussion with Samsung executives and few other people.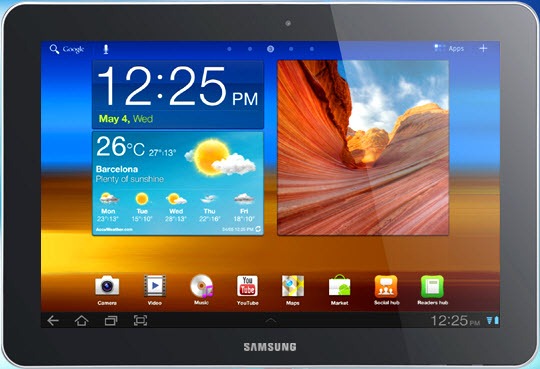 The Samsung Galaxy Tab 750 offers a superb experience with its thinnest and lightest design, that weighs 565g and is just 8.6mm thin. It is powered by a 1GHz dual-core NVIDIA Tegra 2 processor, runs on Android 3.0 (Honeycomb), has a 10.1 widescreen (1280 x 800) WXGA TFT LCD display, 1GB RAM, 3 MP rear camera with LED flash and a 2 MP front camera, 7000mAh battery, supports Full HD (1080p) video playback, etc.
On the other hand, The Samsung Galaxy Tab 730 carries the same specifications as those built in Galaxy Tab 750. It just differs in dimension, display size (8.9 inch), weight (465g) and battery capacity (6000mAh). Both tablets comes pre-loaded with Samsung's TouchWiz UX interface to streamline the user experience.
Pricing and Availability –
The Samsung Galaxy Tab 750 (Tab 10.1) is priced at Rs. 36,200 and The Galaxy Tab 730 (Tab 8.9) has a price of Rs. 33,990. Both the tablets seems to have both Wi-Fi and 3G, means there is no Wi-Fi only version. The tablets would be available later this month in India. These are the MRP, Market price would be bit lower.
So, are you planning to get one for yourself? 🙂