Screamer Radio is a free utility which lets you listen to commercial FM radio, which is an old medium that provides little choice of music and is saturated with ads. Radio can be listened using the streaming internet radio which is somewhat complicated to use.
Screamer Radio attempts to remedy this problem by bringing most of the required steps into a single program. The songs categorized on basis of different regions, genres, language, network, etc. You can select a region and choose among various radio stations present to listen or record the song. The songs have a high quality and consumes very less Internet bandwidth.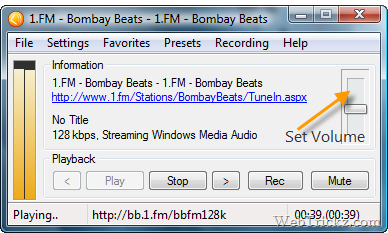 Why use Screamer Radio ?
It's easy to use, not bloated, ad free
It has no spyware
It has a huge database of radio stations
It has a cool peak meter
You can easily record what you're listening to
You can hide it in the system tray
Supported Stream Types
Shoutcast and Icecast MP3 Streaming
Icecast OGG Vorbis Streaming
WMA Streaming
AAC Streaming
Recording Features
Recording buffer: start recording in the middle and still save the entire song!
Direct MP3 Audio stream saving, no loss of quality!
Direct OGG Vorbis stream saving, no loss of quality!
Or encode OGG Vorbis as MP3 using Lame
Encode WMA or AAC to MP3 using Lame
Download Screamer Radio   [ Portable version also available ]