Twitter search offers powerful real time search and sometimes convey results which can't be found on major search engines. That's why Google has introduced real-time search results from twitter in its timeline. Microsoft is also testing to incorporate twitter real-time content in its Bing search results.
Twitter has introduced a dedicated search page http://search.twitter.com/ which you can use to find real-time updates via twitter, without going to your twitter profile. Twitter search provides best updates on hot topics like: iPad launch event, Apple OS 4.0, new Nokia phones, Iceland volcano, and other stuff over the web.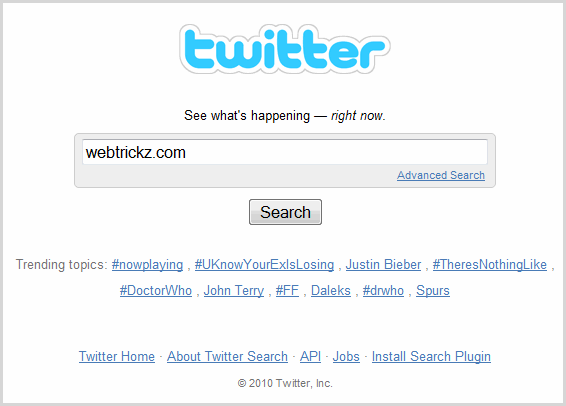 The search results page shows 'Trending topics' along with the option to tweet search results. You can also chose to see tweets from a specified language only.
Advanced Search – Other than normal search, there's also an advance search which can let you filter exactly the best accurate results. You can also use the advanced search page to easily incorporate search operators in your queries.
Hope you find this information useful.
Also See: Make Twitter as default Search in Firefox, Chrome, Internet Explorer & Opera