See the New 'Site Meter' with elegant looks and lots of new features introduced [ It's Different ]
Today, Site Meter which is a traffic analysis tool was busy throughout the day. Now you would see why it was busy as it came out now with a fully changed elegant looks and a whole lot of exiting features which makes the new Site Meter simply rocking.
Site Meter with new and cool looks ( Click images to enlarge )
Key Features of New Site Meter:
Introduction of Master Account
Newly designed graphical looks and pattern
Free Site Meter widget for analysing data simply
Send site/Blog stats through mail
BOT activity introduced
Visitors detailed reports & much more …
Site Meter Widget – This cool little device is a Yahoo widget which is placed on your PC desktop. Each day it will show you your site's traffic, updated every six minutes. With a simple mouse click on the widgets switch you can change from page views to visits.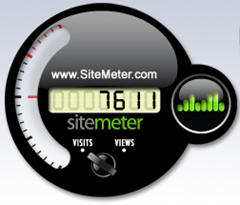 Yahoo Widgets is required to installing this widget. After the SiteMeter widget installation, click the SiteMeter icon on your desktop to add the widget to Yahoo widgets.
Once you have installed this widget open the "preferences" (right click on the widget) and enter your site's SiteMeter codename.
Get SiteMeter Widget Here (Windows Version) or (Mac Version)
>> Subscribe to RSS feeds if you like our content. Thanks