Here is an efficient way to send free SMS all over India right from your Android smartphone, without worrying about SMS charges and other limitations. Free SMS India for Android is a great app using which you can easily send SMS message to anybody all over India without any charges from your carrier. The app features a nice, easy to use user interface and requires a working data connection (3G/GPRS) or Wi-Fi to function.
Free SMS India is an absolutely free application available on the Play Store. The app lets you send SMS for free to any mobile number in India and supports a variety of free SMS gateways like:
– Way2SMS
– FullonSMS
– Site2SMS
– 160by2
– SMS440
– IndyaRocks
– YouMint
– Ultoo
– SMSSpark
To get started, simply install the Free SMS India app on your Android phone. Then register with one of your favorite supported gateway, we prefer Way2SMS that supports 140 characters message. You can register for free by visiting the gateway site and providing the required information. Upon registering, you'll receive a username and password for the respective SMS gateway.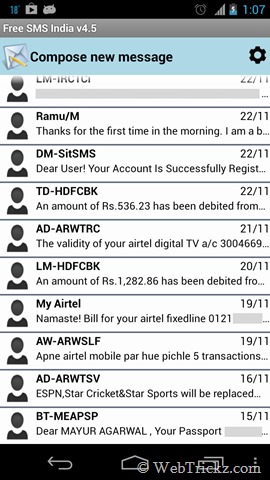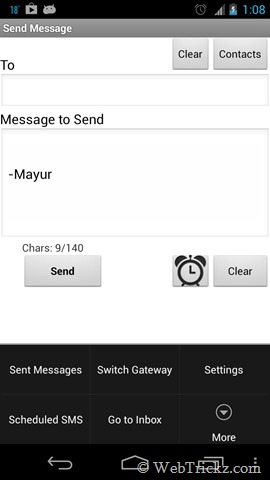 Now open the SMS India app, go to its Settings. Click on Setup Gateways > choose your gateway and click on 'Enter Login Details'. Enter the login username and password for that gateway that you received after registering. Also, set the Default gateway from the settings. You can enable message signature and define the signature (like your name) to be appended with every SMS. Switch Gateways instantaneously in a few taps.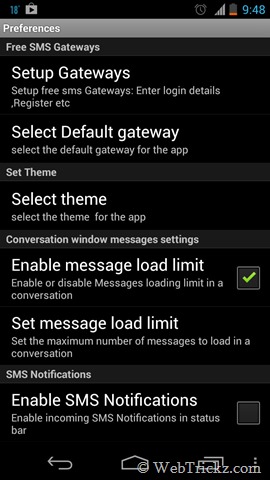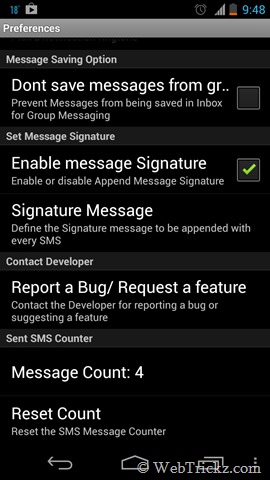 Sending SMS using Free SMS India App – After setting up the gateway, you're all set to send free SMS from your Android phone using the GPRS/3G connection or Wi-Fi. One can also send a group message by adding multiple contacts and moreover it is possible to schedule your SMS as well. Once sent, SMS are instantly delivered and the sender is represented by his actual registered mobile number. The SMS messages received are listed within the app as well, thus making it easier to access them.
Only downside is that, the SMS's sent using this app doesn't show name as sender (instead shows gateway name like LM-waysms) even if the sender is in the recipient's contacts list. The lack of delivery report is something missing too.