SilverX – Convert Flash (SWF file) to Silverlight format
SilverX converts Flash movies from SWF format to Silverlight in just 1 click. It supports Flash 5, 6, 7, 8, 9 and 10 formats and transforms Flash movies to Silverlight 3 solutions for Visual Studio 2008 or Expression Blend 3.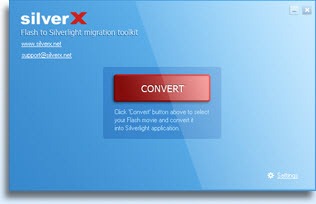 SilverX allows designers and developers to convert existing Flash content into Silverlight. It supports all basic Flash features: vector primitives, images, texts and animations, so almost all Flash movie resources get accurately converted to Silverlight.
Features:
Transform Flash banners to ready to run Silverlight banners
Transform Flash movies/cartoons/animations into Silverlight movies
Export After Effects and CorelDraw vector graphics to SWF file and then convert it to Silverlight XAML
Convert vector graphical assets embedded in SWF file into elements ready to use in Silverlight application
Extract graphical assets embedded in SWF file
Supports: Windows 2000/XP/2003/Vista/7
Download SilverX Free