SizableSend is the best service which allows you to upload, share and download unlimited files @ no cost. It is 100% free, secure and doesn't requires any registration to use. You can upload and download any type of files over the web easily using this amazing service.

A maximum of 10 files each of 2GB in size can be uploaded at one time, means send 20GB of big at one time. If you find it less, then use it again; there is no time limit too. The upload speed is high and the files sent are received in less time.
How to Use ?
Just enter you email and recipient's email address, chose the files to send using "Select Files" button and click "Start Uploading" to send the required data. The receiver can downloaded the files using SizableSend only.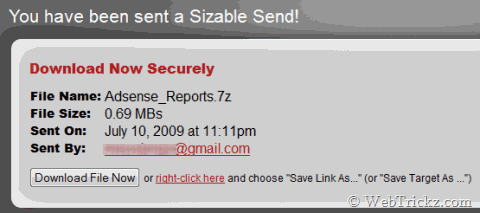 I'm really amazed and happy to see the performance of this free service. You must give it a try out!