slife available for Windows [Download Free]
Slife is a time and activity analytics application for both Mac and Windows that automatically keeps track of where you spend your time on your computer. Previously sLife 2.0 application was only available for Mac users, but after four months the Windows version has also been released.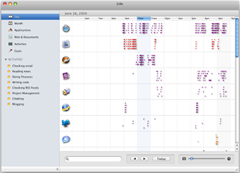 Slife observes as you interact with applications, documents, email and web sites and then displays detailed statistics of your computer usage in a set of intuitive and easy to use visualizations.
With Slife, you can finally understand where you are spending your time and energy, and focus on what really matters.
Download sLife for Windows or Mac