SlimPDF Reader is the world's smallest PDF Reader for Windows. It is the best alternative to Adobe reader because of its tiny size, Bloatware free PDF Reader and is completely secure, without sacrificing the functionality.
Slim PDF Reader is free and views 100% of PDFs just like Adobe Reader. It uses Able2Extract's stable PDF viewing technology to offer a high-quality PDF Reader. The program is just 1.5 MB in size which is really small as compared to the 40 MB download size of Adobe Reader 9.3.3. Also, Adobe Reader uses 203 MB of disk space while SlimPDF uses only 4.90 MB as seen in Add/Remove Programs in the Windows control panel.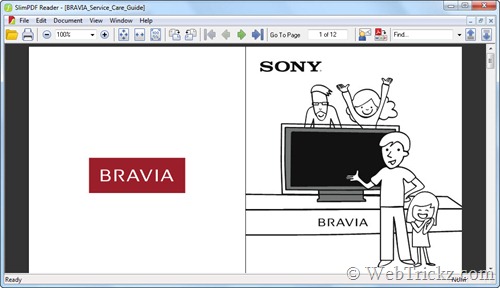 It has a clean GUI and provides all essential features like viewing and printing files, zooming features, copying text, page navigation buttons, search box, rotating PDF files. You can also use SlimPDF Reader as your default PDF viewer.
Download SlimPDF Reader  (1.43 MB)