If you want to check out and keep a spy eye on your Girlfriends mobile for seeing her incoming and outgoing SMS, then here is a useful software which lets you do this easily.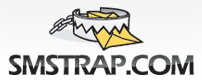 SMS Trap is something that never fails to help you get your partner off guard. This software will make reading other people's SMS as easy as ABC. Ready for some real spy stuff ?
All you have to do to start using our service is following three easy steps:
Get registered at our site
Download the program
Install it at the cell phone of your partner , AND THAT'S IT !
As soon as you are done with this, you will be able to view both the sent and the incoming SMS messages at their site, inside your account area. You will be able to read them ALL online !
This is not a free service. You have to pay in order to use it.
Free Alternative: Super Bluetooth
Once connected to a another phone via bluetooth: read his messages – read his contacts – change profile – play his ringtone even if phone is on silent – play his songs(in his phone) – restart the phone – switch off the phone – restore factory settings – change ringing volume.