This is our first post regarding a Software Deal which can help you save Big Money by buying high-quality software at very low prices this Holiday season 😀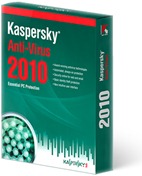 Save $30 – You can get 1-Year Kaspersky Antivirus 2010 Comm. License Pack and Maintenance Box for 3 Desktops for $29.99 (List Price: $59.99). Though the official price listed by Kaspersky for 1-Year Kaspersky Antivirus 2010 (3-user) is $90
The Kaspersky AntiVirus 2010 gives advanced antivirus software to guard your system with maximum spyware protection. It protects your system from viruses, Trojans, worms, spyware, adware and simultaneously scans files, email and internet traffic.
The advanced anti-virus engine delivers fast scan times, saves time and improves performance. In addition, it offers hourly updates and fast response time ensuring maximum benefit from the most up-to-date protection.
I'm sharing this deal because I'm a big fan of Kaspersky and recommend everyone to use their security software. Though it is costly but worth the amount spent on it.
Click here to go to Dell Home & Office site and grab the deal now!