Siri is a voice assistant service by Apple that comes integrated along with the new iPhone 4S. Siri is a smart and intelligent service that helps you get things done, all you have to do is ask Siri to do things just by talking the way you talk and Siri replies back. You can ask Siri to make a call, find a business and get directions, schedule reminders and meetings, search the web, dictate text, and more.
Siri has became widely popular among users of iPhone 4S and those who've figured out a way to make it work on iPhone 4. Now if you're an Android phone user who wants Siri like voice assistant, then you'd be pleased to know that there is a pretty nice and efficient alternative to Siri, designed specially for Android.
Speaktoit Assistant is a free Android personal assistant app with capabilities similar to that offered by Siri. I personally tried the app and was quite amazed to see that it was understanding me well and was replying back in a Siri like voice with relevant results. The best thing is that developers are working hard and updating the Assistant app frequently to make it a lot better. It's really amazing, responds fast and recognizes majority of the commands. The app has been downloaded by more than 1 million Android users.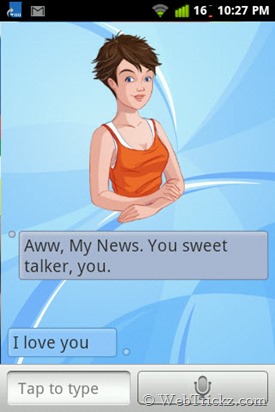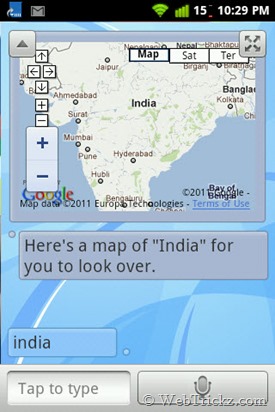 Speaktoit has the ability to read natural language and converse in human speaking style. The app understands conversational context and isn't limited to a user's input of a specific string of keywords. In short, you talk to it like a human, not a robot.
Speaktoit's assistants can: send emails, send texts, look up information, post to Twitter, check you in places, update your Facebook, find news, look up traffic, look up weather, call people, take notes, add things to your calendar, translate foreign languages, help you find nearby places like bars (but not without reminding you to enjoy responsibly…), and tons more.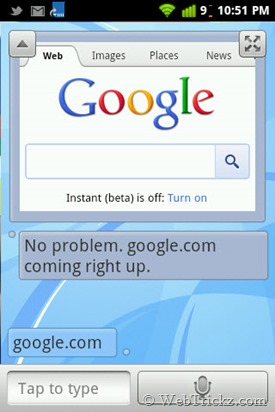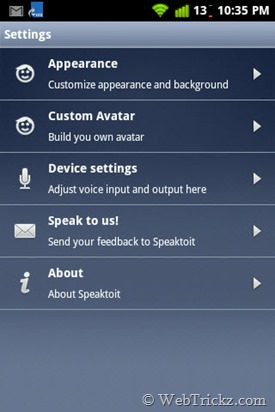 Speaktoit for Android is different from Siri as it contains some additional impressive features. Unlike Siri, Speaktoit lets you choose (or build) a cartoon avatar to converse with which is much more personal and fun. You can even share a conversation on social networks, turn speech on/off, or change the app background from the Settings menu.
Speaktoit Assistant Video Demo –
Speaktoit is currently available for Android but is coming soon for iOS and Blackberry. The users are apparently liking it, the app is getting over 15k downloads a day.
Download Speaktoit Assistant Free from Android market.
Other great Siri alternatives include: Vlingo Virtual Assistant, Voice Actions, and iris.