Mozilla Firefox is preferably the most popular and best internet browser worldwide. The main problem with Firefox is its long start-up time and high memory consumption. So, I've found an amazing tool that fixes this problem easily.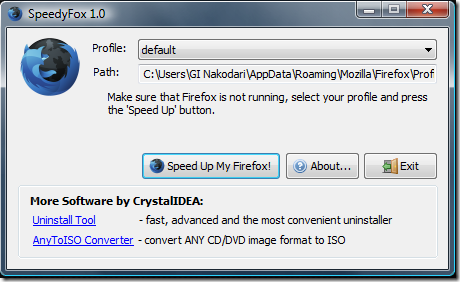 SpeedyFox is a free tool that aims to speed up your Firefox. After optimizing Firefox with this tool, you will get up to 3 times faster startup speed, browsing history will become faster, and performing operations with cookies will be quicker than before.
SpeedyFox increases speed by compacting the fragmented databases without losing any data. It automatically detects your Firefox's default profile. To use it, select your profile and click the Speed Up My Firefox button.
The whole optimization process is safe as it does not affect your history, bookmarks, passwords, etc.
Download SpeedyFox [Portable version]
Thanks, visy199 and Nirmal for notifying me about the mistake.