HJSplit 2.3
It is a simple and freeware file splitter which splits files of any type and size into smaller chunks, which can be much more easily sent and stored. It does not need to be installed. Just click on hjsplit.exe and the program starts. This program can even handle files which are larger than 10Gb.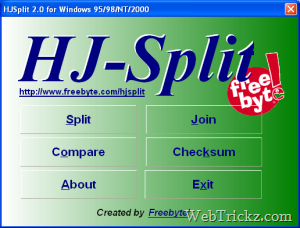 Later on you can use it to join the split parts back together again, to restore the original file.
For Windows XP, Vista, 2000, NT, 98, 95, ME.
Download HJSplit  www.freebytesoftware.com/download/hjsplit.zip  (304 Kb)
GSplit
This application is a free reliable file splitter that lets you split your large files (like Self-Extracting archives, Zip archives, disk images, multimedia, music, video, backup, image, archive, log, large text, document files…) into a set of smaller files called pieces.
These pieces are easier to:
distribute over the Internet, networks.
send by email
archive to CD, DVD, USB Flash drive and stick, Zip disk, and any other storage device.
upload to host accounts, file delivery services, online file hosting sites… that have restrictions on file sizes.
share with friends, colleagues or other users through networks and the Internet.
exchange using Instant Messaging clients or Instant Messenger programs.
A portable edition of GSplit is also available with no required installation.