Google has just updated Chrome from v11.0.696.57 to v12.0.742.91 under the Stable Channel for Windows, Mac, and Linux. This latest Chrome 12 stable release brings improvements in security, privacy, and graphics to over 160 million users of Chrome.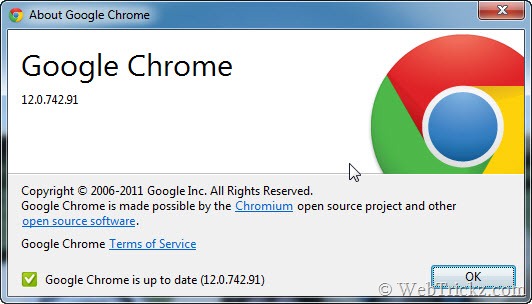 Chrome is now more secure, thanks to enhancements to our Safe Browsing technology. In addition to protecting you from certain malware and phishing websites, Chrome now warns you before downloading some types of malicious files. We've carefully designed this feature so that malicious content can be detected without Chrome or Google ever having to know about the URLs you visit or the files you download.
There is improvement in Chrome's graphics capabilities and this release includes support for hardware-accelerated 3D CSS, thus to provide you a snazzier experience in some web pages and web apps that choose to implement 3D effects. To see hardware-accelerated 3D CSS in action, check out this Chrome Experiment on Windows Vista / Mac OS X 10.6 or above, featuring clips from Aardman Studio's "Shaun the Sheep."
Download the Google Chrome 12 Final now or update directly by going to 'About Google Chrome'. Added below are links for standalone offline installer of Chrome 12 Stable for users who want to save time & bandwidth when installing the same on multiple systems.
Download Chrome 12 Standalone Setup [Full Offline Setup]
Source: Google Chrome Blog