Bing offers webmaster center like Google webmaster tools, so that you can "Submit your site URL" and content to their search engine for faster indexing of your web pages as they are published. This way you can enhance and drive more traffic to your site.
Webmaster Tools helps to troubleshoot the crawling and indexing of your site, submit sitemaps and view statistics about your sites.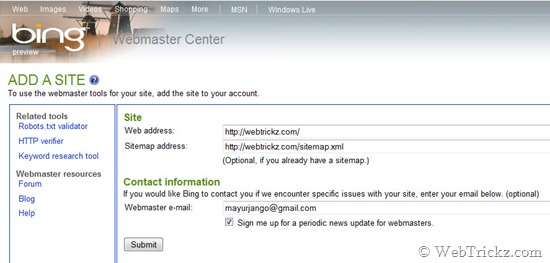 To add your site to Bing Webmaster center, just go to http://www.bing.com/webmaster/. You will need to login using Windows live ID (Hotmail, Messenger, Xbox LIVE) to use this service. Now, enter your website URL and sitemap (optional) and then Submit.
After submission, you'll need to verify your website by uploading a XML Verification file or adding a META tag to your main index template.

Upon successful completion, Bing bots will crawl your site for indexing and you can see various results like: top search keywords, Backlinks, "404 File Not Found" pages, outbound links, etc.
If you want to simply SUBMIT YOUR SITE TO BING then use the link below: