If you run a website or blog, then you must know its exact loading time when opened. A short loading time helps in increasing your site's traffic (visitors) and its reputation too. A load time between 1-6 seconds is considered good. The loading time depends mainly on your web server and Internet connection speed.

Pingdom Tools – Full page test is a free online service that tells you the exact time and data taken to load your webpage.
The Full Page Test loads a complete HTML page including all objects (images, CSS, JavaScripts, RSS, Flash and frames/iframes)
It shows a list of objects either in load order or as a hierarchy, that tells which individual object took how much to load.
The page test also shows general statistics such as the total number of objects, total load time, and size of all objects.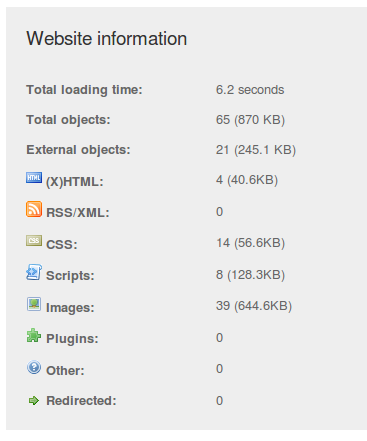 In my opinion, Pingdom's Full page test tool is the best way to determine your site's loading time.
You can also use: Web Page Analyzer – Free Website Performance Tool and Web Page Speed Analysis.