David from Jcxp.net has came out with an awesome Search gadget, which looks much similar to Mac OS X Widgets.
The Search Bar gadget has a simple and sexy look. It allows you to easily search multiple providers right from your desktop. The bar can float or placed wherever you prefer on your desktop.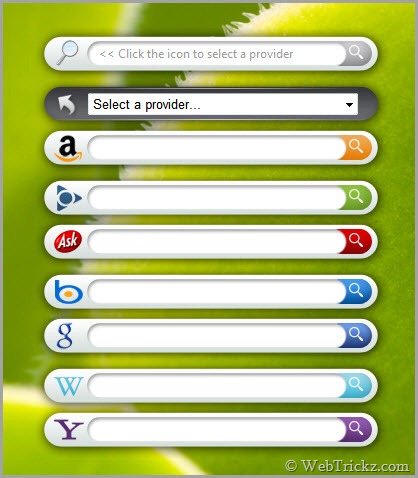 Currently, 7 search providers are available to chose from including Amazon, AOL, Ask, Bing, Google, Wikipedia and Yahoo, each with their own style. More providers will be available in a future update, alongside the ability to add your own providers.
Search Bar works on Vista and Windows 7 (recommended). You can easily switch between various search providers or add multiple search bars if you prefer.
To switch providers, simply click on the icon and select one from the list. To search just enter the search term > Enter, result will be opened in your default browser.
Download : The Search Bar gadget