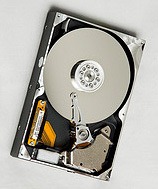 Sometimes the Hard Drives don't show their actual factory capacity. This can be due to some issues with OS, Motherboard or Hard disk drives. I've found a simple tool which can restore factory capacity of any hard drive.
HDD Capacity Restore Tool is a freeware, which allows you to restore factory capacity of any hard drive. It does everything automatically: extracts the factory capacity; then restores the factory LBA48, HPA and DCO settings.
It's very useful to restore the lost space of any hard drive. For example: A 80GB hard disk may only show and use 40GB of its space.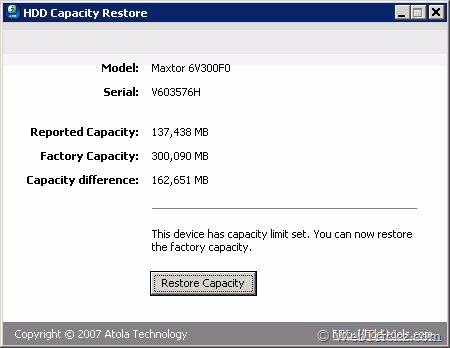 How To use – All you have to do is download and install it. Then Run it and select your hard drive and click "Restore Capacity". The program will do the rest.
This tool does not formats the hard drive or erases any data. It only alters HDD firmware (HPA and DCO settings).
Note: It is strongly recommend to re-power your computer before running this tool. That means, completely power off your computer; then power on, start Windows and run the tool.

After the program finishes working (3—20 seconds), you will need to power off your PC, then wait 10—20 seconds and then power on.
Supported OS: 32-bit versions of Windows XP/Vista/2003
Download HDD Capacity Restore Tool     [See full guide here]
Please perform this task at your own risk. I'll be not responsible for any mishappenings.