We're here for a review of "TouchCopy", a very useful and easy to use utility to manage and backup the entire data on your iPod, iPhone or iPad to a PC or Mac. It frees you from the hassle of iTunes, it's fast, comes with an intuitive interface, and offers a bundle of features, but its functionality varies according to the specified device.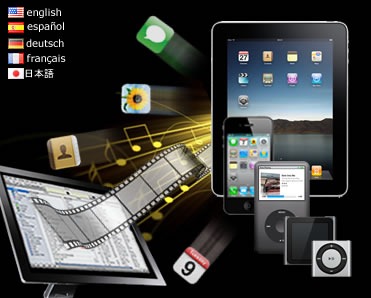 TouchCopy automatically detects an iPod, iPhone, or iPad when it is connected to your computer. It displays all the music, playlists, podcasts on your device and presents them in neatly arranged lists. It has easy control buttons to do tasks like transferring device content, playing media, backup option, search, etc.
What all Features TouchCopy offers:
Ability to Transfer the entire content of your iPod, iPhone, or iPad to your PC or Mac hard drive, or directly into iTunes. There are dedicated buttons 'Copy to PC' and 'Copy to iTunes' for that. It copies the music and restores all song data like album art, ratings, artists name, and play counts.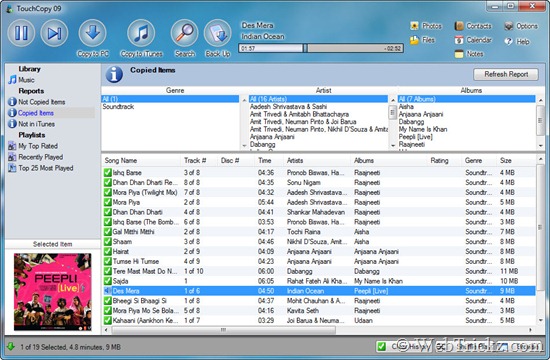 Play music and videos directly from iPod through PC or Mac without having iTunes.
Backup all the music and video on your device into iTunes or a folder on your system in just a click. This way you can simply save all your iPod music, movies, and playlists.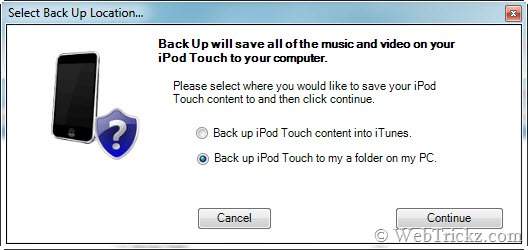 Files Explorer – View the system data i.e. all the files and folders present on your device. One can easily 'Drag and drop' files and folders from PC onto TouchCopy to store them on idevice. Also, you can copy and backup the desired system data to the PC.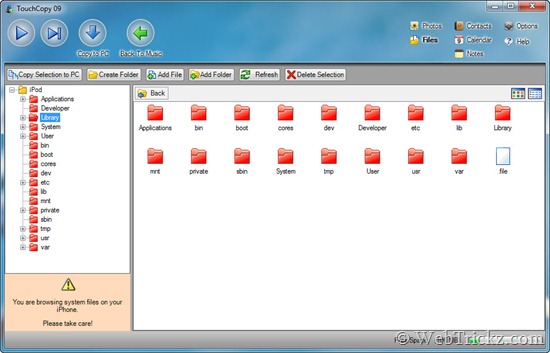 View all the Photos and camera pictures. You can save them or run a slideshow.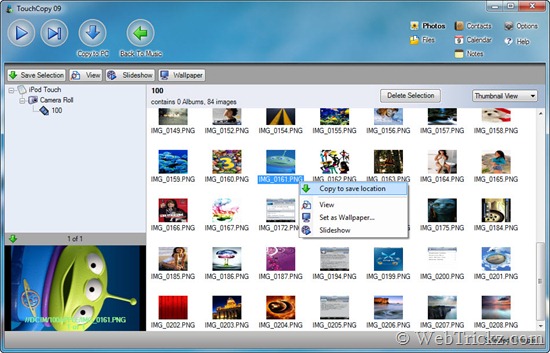 View, manage and copy the Notes, contacts, calendars, SMS and MMS messages, voice mails, and voice memos from device to computer.

Use your iPhone, iPod Touch, or iPad like an external hard drive – You can create a personal folder under the 'Files' directory and move the desired data to it. But you can't access that folder directly, though you can copy it anywhere on the computer.
TouchCopy by Wide Angle Software is an effective tool to easily backup your iPod, iPhone, or iPad, which comes in handy when you change your computer or lose iTunes by mistake. However, the tool lacks a much-needed feature to transfer and manage songs, videos, and playlists from computer to iPod/iPhone without requiring iTunes.
TouchCopy works with all iPods, iPhones, and iPad including the iPhone 4 and is available for both Windows and Mac OSX. The software is available as a free trial download, allowing up to 100 iPod songs or videos to be copied. The full version costs $24.99, giving access to all functionality, free customer support, and free software updates.
Give it a try now! Download TouchCopy Trial