Aug 3, 2011 – Samsung Mobile announced the software update for Samsung Galaxy Tab 10.1 Wi-Fi. The TouchWiz update has started rolling out OTA for Galaxy Tab 10.1 owners beginning Friday, August 5. This latest update includes Samsung's TouchWiz UX user interface, Adobe Flash Player 10.3 and the redesigned Samsung Media Hub service.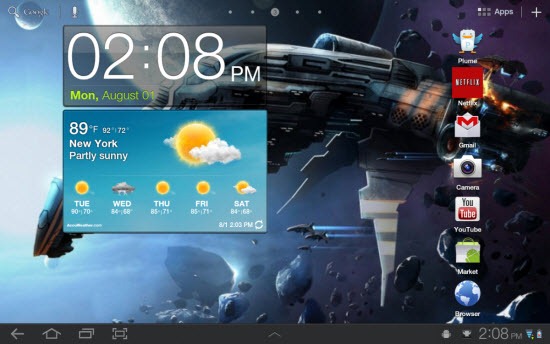 Samsung TouchWiz User Interface:

The Samsung TouchWiz UX is specifically designed to work with Android™ Honeycomb 3.1 to optimize the large screen tablet user experience. The TouchWiz UX delivers superior multi-tasking and customization for an enhanced visual, fluid and intuitive mobile computing experience. TouchWiz UX features are scheduled to include:

Live Panel: Magazine-like widget view for immediate access to weather, social updates, email, news, photo gallery, all on the home screen. The visual layout of Live Panel is completely customizable for one-touch entry into each user's most important information.
Mini Mode Tray: One-touch access to commonly used applications—Task Manager, Calendar, World Clock, Pen Memo, Calculator, Music—which overlay in a pop-up window on display screen for powerful multi-tasking.
Clipboard: Advanced copy & paste functionality allows Galaxy Tab 10.1 users to store photos, Web pages, YouTube links, etc., on the clipboard for easy sharing via email and social network sites.
Indicator Quick Panel: Quickly toggle on/off Wi-Fi, notifications, sound, brightness and settings in lower right hand corner of the Galaxy Tab 10.1 display.
Photo Editor: Rotate, crop and adjust colors on high quality digital images
Besides the above mentioned features and services, the Samsung Galaxy Tab 10.1 TouchWiz update adds the ability to Take screenshots easily in a single click. You no more need to download any apps or use the cumbersome Android SDK method just to capture screenshots. Now capture any screen on your Tab 10.1 right from your device taskbar! However, the screenshots are saved in jpg format which seems quite awkward.
Video – How to take native screenshots on your Touchwiz Galaxy Tab 10.1
via [HowTo-CNET]