You all know that how important are linkbacks or backlinks for a website or blog. They help in increasing your blog's Google Page rank and a webpage with good page rank generates a healthy traffic from search engines.

I will tell you how you can track all the linkbacks which are linking to your website or blog by creating a RSS feed or Google alert for them.
Follow the steps below to create a feed of all linkbacks:
1. Go to http://blogsearch.google.com/
2. Type link:sitename.com/ (link:webtrickz.com) in the bar and click Search Blogs.

3. You will now see a list of sites which are linking to your site. It contains links both from who links directly and those who use trackback entry to link your content.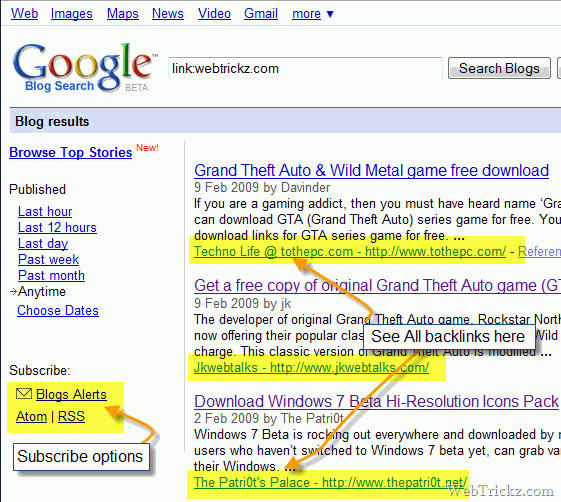 4. On left side you'll se a Subscribe heading which offers 3 options to subscribe to your list of linkbacks. It contains Atom, RSS and blog alerts.
The Atom and RSS feeds can be easily integrated to any feed reader by clicking on them. Google Alerts aka blog alerts sends updates of the latest backlinks received, via email based on your preferred choice.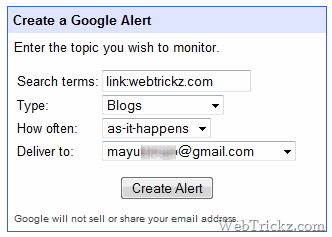 This trick will let you know instantly when a site links to your blog or site.
Alternative tool – Backlink Checker