iBooks is a new app released by Apple for iOS4 which provides an amazing way to download and read books, plus the ability to add and read PDF files on your idevice.

You can store and read PDFs on your idevice using iBooks but you need to add them to iBooks first. PDFs can be added to iBooks app using iTunes but there is another simple way to add PDF files using the Dropbox app for iPhone.

The latest version 1.2.3 of Dropbox allows users of iPhone, iPod touch and iPad to export documents (PDF) to third party apps (iBooks, etc.) which was previously available for iPad users only. Check the tutorial below:
How to Add PDF to iBooks using Dropbox –
1. Install the latest version of iBooks and Dropbox app on your idevice with iOS4.
2. Upload the desired PDF files to your Dropbox account.
3. Run the Dropbox app on your idevice. Open the PDF file you want to add to iBooks.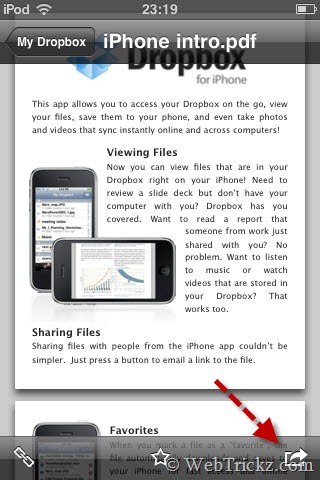 4. Click the arrow icon located at lower right corner on the Dropbox bar. Select iBooks.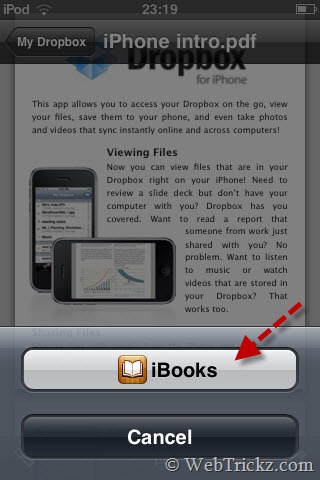 5. The selected PDF will now be saved to iBooks under PDFs menu. Read it anytime.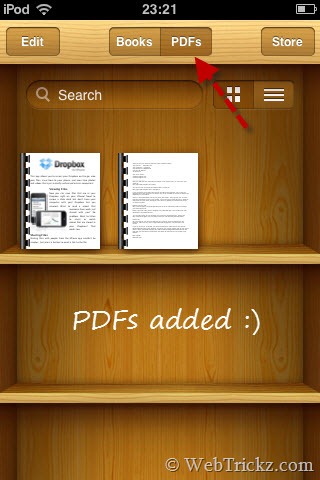 Thanks SimpleHelp.