OS X Lion indeed comes with a variety of features but there are couple of things that people dislike about the latest OS X release. One can always Disable or Enable most of the annoying features and components using Terminal but that isn't the most easiest way for everyone. Here is a new handy tool to simply customize your Lion experience.
Lion Tweaks is a small and free tool that allows users to customize and correct certain new features in Mac OS X 10.7. One can easily enable some good old options, disable several new unwanted features, and change the way Lion looks in just a single click.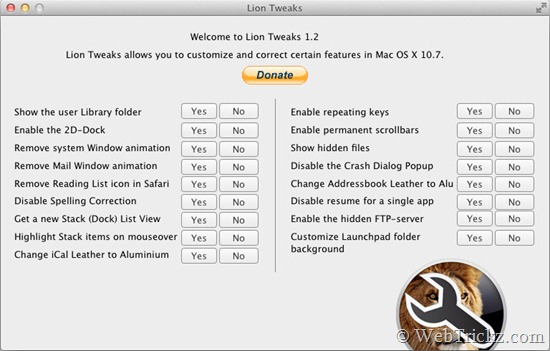 List of changes that can be customized with Lion Tweaks:
Enable/Disable the user Library folder.
Change to a 2D or 3D dock.
Enable/Disable system window animation.
Enable/Disable mail reply animation.
Remove/Add Reading List Icon in Safari.
Enable/Disable Spelling Correction.
Enable/Disable repeating keys.
Enable/Disable permanent scrollbars.
Show Hidden Files.
Disable Crash Dialog Pop-Up.
Get a new Stack List View.
Highlight Stack items on mouseover.
Change iCal leather interface to aluminium
Change Address Book leather interface to aluminium
NEW: Disable resume for a single app
NEW: Enable the hidden FTP-server
NEW: Customize Launchpad folder background
Note: After downloading, move Lion Tweaks to Applications prior to using it.
Download Lion Tweaks