Not every website or blog has a Tweet or Retweet button added to it, to share its posts on Twitter. This becomes uneasy as you need to copy the title and web URL of the page and post it manually if you want to share any interesting thing on Twitter.
Twitter 'Share' Bookmarklet solves this problem, which uses Twitter's new Tweet Button API. Check below how to use it.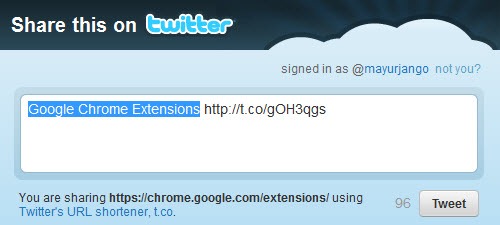 – Add bookmarklet (drag n drop) to your bookmarks
– Go to the page that you want to tweet
– Press this bookmarklet
– "Share to Twitter" page opens in a new tab
– Change the text if you want (but not the URL!) or skip that, default text is the site's title
– Press 'Tweet'
– Done! The page will automatically close in few seconds.
Twitter 'Share' Bookmarklet via  [Marklets.com]
Update – Official Twitter Bookmarklet 'Share on Twitter' is now out.