TwitChat, a new application for iOS devices allows Twitter users to make instant and long conversations than just letting them post tweets. Currently, the only possible way to communicate privately on twitter is via the Direct Message (DM) feature, which unfortunately is limited to 140 characters per tweet thus preventing users from having easy and effective conversations. With TwitChat for Twitter, iPhone users can now easily Chat privately and instantly with their twitter followers and friends, just as they do in any IM client like gtalk or Yahoo Messenger!

TwitChat is a 3rd party instant messaging app, Free for iPhone, iPad and iPod touch. It's a fun and easy way to interact with your Twitter followers privately, or have group conversations with your friends! To start a conversation, simply login with your Twitter account to instantly view all your Twitter friends and connect privately. Moreover, you can View profiles, Compose Tweets, Mention friends, Block users. etc.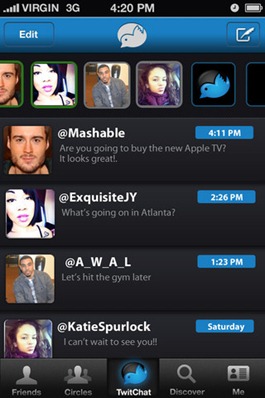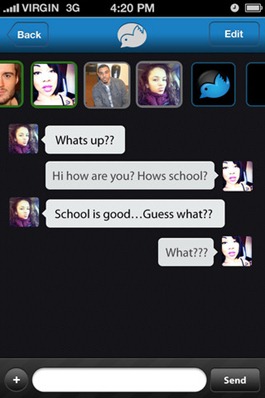 Major Features include:
Automatic Friends List
Private Instant Messaging
Group Chat
Public Hashtag Chat
Send Files, Audio, Video
Login using your Twitter Credentials
Manage alert and sound settings
The chat feature is certainly a prominent one that Twitter should integrate to their web interface and mobile app, so users can have spontaneous conversations. The TwitChat team is working hard to add new features and support for other platforms.
Download TwitChat for iPhone [App Store]