If you want to type in Hindi language, then here is an easier way to do it online without the need to install any software and no need of a dedicated Hindi keyboard. Google Transliteration is a free and useful online service that lets you write in Hindi using the normal English keyboard. Additionally, it also supports other Indic languages like Bengali, Gujarati, Kannada, Tamil, Telugu, Marathi, Malayalam, Urdu, etc.
There are various formatting options that can be used to generate the text in a desired size and font. To write in your language, just visit www.google.com/transliterate. Choose the output language and then start writing. Then copy-paste the conversion anywhere.
For example: When you type namaste, it will get converted to ?????? after hitting Space bar. Clicking on the translated word will show other related words that you can select if the initial word is not relevant. Make sure to type in Hindi (just like SMS language) to get the Hindi conversion in Devanagari script.

Transliteration bookmarklet – This comes handy when you want to type in your language easily on any website. The tool uses the Google transliteration service in the background. To use the bookmarklet to type in Hindi, just drag the Hindi Bookmarklet to your Bookmarks bar. [Visit here to get other language bookmarklets]
To write in Hindi, click on the bookmarklet and you'll notice a bold ? in the typing filed. This means that you can now start typing and text will get converted into set language.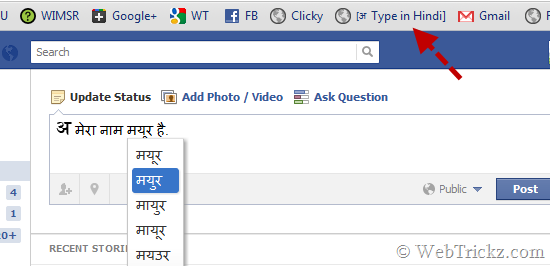 If you want to type anywhere in your language without need of an Internet connection, then install the Transliteration IME, available for Windows OS (32-bit and 64-bit).
Google Transliteration IME is an input method editor which allows users to enter text in one of the supported languages using a roman keyboard. Users can type a word the way it sounds using Latin characters and Google Transliteration IME will convert the word to its native script. Note that this is not the same as translation – it is the sound of the words that is converted from one alphabet to the other, not their meaning.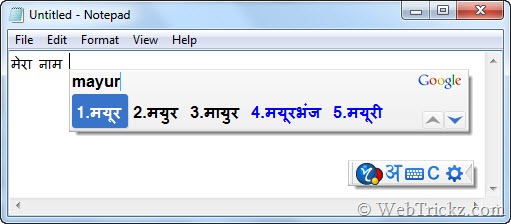 Besides this, there is also a very popular and good online service "Quillpad".
Do share your views below if you found this post useful. 🙂