Finally, the carrier unlock for iPhone 4 is released by Dev-Team. The version 1.0-1 of ultrasn0w supports unlocking iPhone 4 with iOS 4.0.1/4.0
ultrasn0w 1.0-1 can unlock:
iPhone4 baseband 01.59
3G/3GS basebands 04.26.08, 05.11.07, 05.12.01 and 05.13.04
To unlock iPhone 4, follow the below guide:
Note: T-Mobile USA users must disable 3G first. To do this, open Settings > General > Network and turn the "Enable 3G" switch to OFF.
1. Jailbreak your iPhone 4 iOS 4.0.1/4 with JailbreakMe
2. Goto: Cydia > Manage > Sources > Edit > Add
3. Enter the URL repo666.ultrasn0w.com and click Add Source. (ultrasn0w has zero (0) in its spelling).
4. Tap the Search tab in Cydia and search for "ultrasn0w". Install the app named ultrasn0w.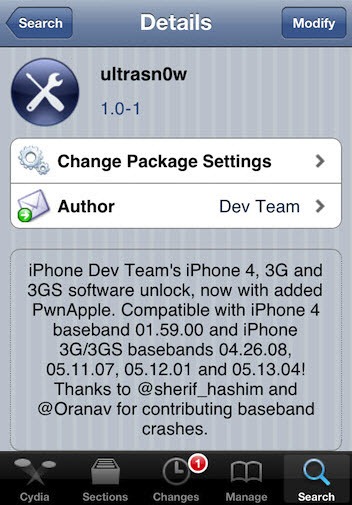 5. Wait for ultrasn0w to get installed. Reboot your device after installation.
That's it! Your iPhone 4 with baseband 01.59.00 is unlocked now. Insert SIM from any carrier to use it on your iPhone 4.
Disclaimer: Use this guide at your own risk. We will not be held responsible if anything goes wrong.