Apple starts selling Unlocked iPhone 4 in US for $649
Yesterday, the big news broke over the web that Apple is going to launch Unlocked iPhone 4 in the United States, which was much of a rumour. However, the leaked news has been confirmed now as Apple has officially listed Unlocked (GSM) version of iPhone 4 on the Apple Store (US). Officially Unlocked iPhone 4 for U.S. is selling both in black and while colors. The 16GB model has a price of $649 while 32GB model costs $749.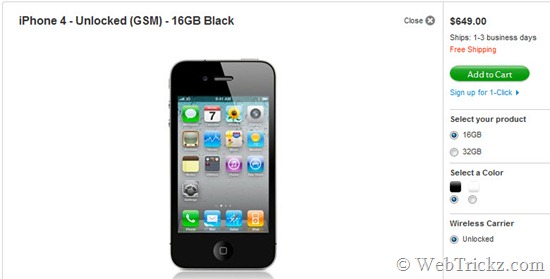 This is certainly an awesome news for all Apple fanboys from US, wishing since long for a Factory Unlocked iPhone. At last, Apple has listened and brought it for you all! One can now buy an unlocked device straight from Apple and use it with a supported GSM cellular network carrier of their choice without any long term and costly contracts. The black iPhone 4 has a shipping time of 1-3 business days whereas the white one has a shipping duration of 3-5 business days, both with Free Shipping.
Buy Here – Apple US Store Link
via [TheNextWeb]