Sometime back, I posted an article on Repair Corrupt Microsoft Word Files Free. But if you're unable to repair your corrupt word documents, then here is another utility on

your way.
Damaged DOCX Text Extractor is a freeware GUI program for recovering the text from corrupt Word 2007 files. It can Extract text from damaged/corrupted Word 2007 documents where Word 2007 fails.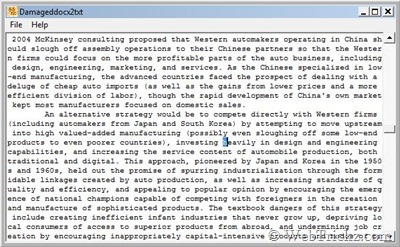 The text is extracted with a command line zip program CakeCMD using a slightly modified Perl script called docx2txt, extracts the text. This program is portable to use.
Download Damaged docx2txt