Utilu Mozilla Firefox Collection contains multiple versions of the free web browser Mozilla Firefox, which are standalone so they can be used at the same time.
Using this, designers can quickly see how their websites look when rendered using different versions of the Gecko render engine. You can specify the filenames or locations (URLs) to open in all installed versions of Mozilla Firefox.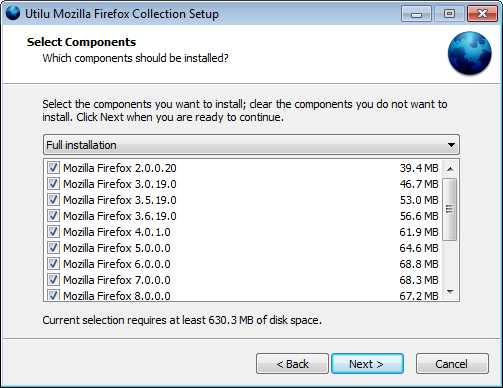 It has a user-friendly installation, which means you can install only those components that you want. You can also add it to the context menu of Windows Explorer. It fully supports upgrading, so there is no need to uninstall a previous version before installing a newer version. This pack is only available in English.
Contains the following versions of Mozilla Firefox:
Mozilla Firefox 2.0.0.20
Mozilla Firefox 3.0.19.0
Mozilla Firefox 3.5.19.0
Mozilla Firefox 3.6.19.0
Mozilla Firefox 4.0.1.0
Mozilla Firefox 5.0.1.0
Mozilla Firefox 6.0.0.0 beta 1
Mozilla Firefox 7.0.0.0 Aurora
Mozilla Firefox 8.0.0.0 Nightly
Contains the following add-ons and plug-ins:
Firebug 1.7.3 add-on
Web Developer 1.1.9 add-on
Flash Player 10.3.181.34 plug-in
Supports – All Windows OS (Both 32 and 64 bit version)
Also See: Internet Explorer Collection – Get All Standalone versions of IE