Vista Services Optimizer is a free Windows tweaking utility that can improve your Windows Vista and Windows 7 performance and security easily. You can either chose to Automatic TuneUp or Manual TuneUp (for advanced users). It also has a Gaming Mode.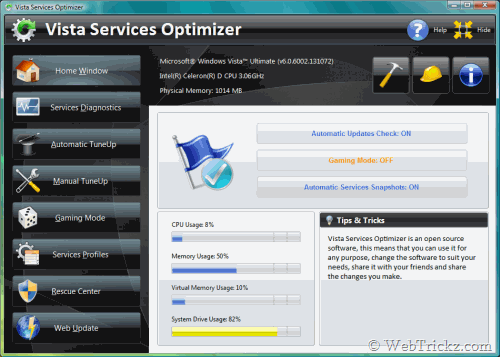 Services Diagnostics feature enables you to inspect your Windows Vista performance
and security. If you face any problem after a services optimization process, you can restore your system to default settings using Smart Rescue Center.
System Requirements:
– Microsoft Windows Vista with SP1 or higher (32-bit or 64-bit)
– Microsoft Windows 7 Beta build 7000 or higher (32-bit or 64-bit)
– Microsoft .NET Framework 3.5 with SP1
Download Vista Services Optimizer [Portable version also available]