Back in March end, Apple officially announced they're going to unveil "the future of iOS and Mac OS" at its five-day annual Worldwide Developers Conference (WWDC) 2011 commencing on June 6 through June 10, 10:00 AM at San Francisco's Moscone West. It is assumed that Apple will unveil the next major iteration of iPhone OS 'iOS 5' and 'Mac OS X Lion' at the WWDC 2011 Event. The much anticipated iPhone 5, is certainly dropped out from the upcoming event and is expected to launch later in Fall 2011.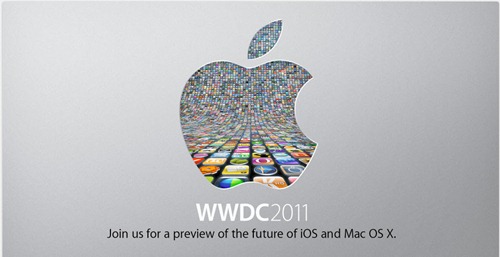 Activities at Apple's WWDC 2011 include:

more than 100 technical sessions presented by Apple engineers on a wide range of technology-specific topics for developing, deploying and integrating the latest iOS and Mac OS technologies;
over 1,000 Apple engineers providing developers with code-level assistance, insight into optimal development techniques, and guidance on how they can make the most of iOS and Mac OS technologies in their apps;
the opportunity to connect with thousands of fellow iPad®, iPhone® and Mac developers from around the world; and
Apple Design Awards which recognize iPad, iPhone and Mac apps that demonstrate technical excellence, innovation and outstanding design.
WWDC 2011 LIVE Coverage:
Quality Liveblogs to Watch Apple WWDC 2011 Event/Keynote Online:
WWDC 2011 Worldwide Starting Time, June 6th
Hawaii 07:00AM
Pacific 10:00AM
Mountain 11:00AM
Central 12:00PM
Eastern 01:00PM
London 06:00PM
Paris 07:00PM
Moscow 09:00PM
New Delhi 10:30PM
Check your Local WWDC 2011 timings here.
Note: We will update the above links prior to starting of event. The actual timings for keynote are not revealed yet but it will most probably start at 10:00 AM PDT like former Apple events. This post will be updated with all the relevant details soon!
UPDATE – Watch Apple WWDC 2011 Keynote Official Video