Apple is set to finally unveil the most anticipated device of the year 'iPad 3' – the next generation iPad today on March 7th, at the Yerba Buena Center for the Arts Theater in San Francisco. The media event will kick off at 10:00 AM PST where Apple will most probably announce the much awaited iPad 3 (rumored as iPad HD). iPad 3 is expected to boast the Retina Display with 2048×1536 resolution, faster processor, LTE, Siri, Front-facing HD camera and other advanced features. Apple online store is also down ahead of the New iPad event, that's going to begin in a few hours. Stay tuned!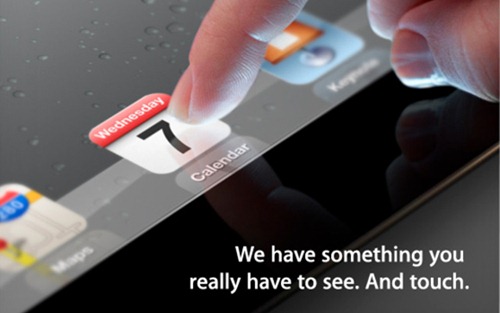 Quality Liveblogs to Watch iPad 3/ iPad HD Event Live Online for Free –
Event Starting Time: 10:00 AM Pacific on March 7, 2012
Hawaii 08:00AM
Pacific 10:00AM
Mountain 11:00AM
Central 12:00PM
Eastern 01:00PM
London 06:00PM
Paris 07:00PM
Moscow 09:00PM
India 11:30PM
Check your Local Timings for the event here.