Watch IPL 2011 Live Stream Online for Free @ ipl.indiatimes.com
The fourth season of DLF Indian Premier League (IPL) 2011 is ready to commence just few days after end of Cricket World Cup 2011. This dynamic IPL 4 T20 tournament will run from April 8 to May 28, 2011 and a total of 10 teams will be competing this time.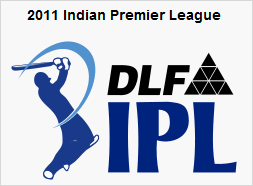 Like before, IPL 4 (2011) Cricket Matches will be broadcasted live over the Internet for FREE via IPL's dedicated channel on YouTube. IPL is the first major sporting event to be live-streamed on YouTube. You can easily watch all the matches live online on YouTube in any region without any disruption. Users from India can switch to Set Max channel to watch the IPL 2011 matches on their Television.
Catch the action live on Official IPL 4 YouTube channel @ www.youtube.com/ipl

Watch IPL 4 T20 Live Streaming Online at IndiaTimes: www.ipl.indiatimes.com
Now available officially also on YouTube: www.youtube.com/indiatimes
Alternate Live Streaming links – Crictime.com, Cricfire.com and Royaltour2india.com
This post will be updated with more links as the main tournament goes live. 🙂
Also See: Official IPL 4 Schedule/Fixtures
UPDATE – IPL 4 will not be available on YouTube this time. Times Group has got the official media rights to show the Live Streaming of all IPL 2011 T20 Cricket matches.