The National Hockey League (NHL) is the premier professional ice hockey league in the world, with 31 teams in the United States and Canada.
Founded in 1917, the NHL has undergone several expansions and contractions over the years and now consists of 16 teams in the Eastern Conference and 15 teams in the Western Conference.
The regular season runs from October to April, with each team playing 82 games. The top teams from each conference then advance to the Stanley Cup playoffs, a best-of-seven tournament that determines the NHL championship. Although it is technically North America's second-oldest professional sports league (after baseball's MLB), the NHL is often considered to be the premier ice hockey league in the world. It is certainly the most popular, with an average attendance of over 17,000 fans per game during the 2017-18 season.
Thanks to its popularity and exposure in both North America and Europe, the NHL has produced some of the greatest players in hockey history, including Wayne Gretzky, Gordie Howe, Mario Lemieux, and Bobby Orr.
Disclosure: This article has been published in collaboration with iTop
What is iTop VPN?
Using iTop VPN to access NHL content is a great option for fans who may be traveling abroad or living in a country without access to the league's broadcasts. It also allows you to bypass any blackouts or restricted streaming rights in your area.
By connecting to a server in the US or Canada, you can access local broadcasts and streaming services just as if you were physically present in the country.
Don't miss out on any of the NHL action and make sure to use iTop VPN for all your streaming needs. Happy watching!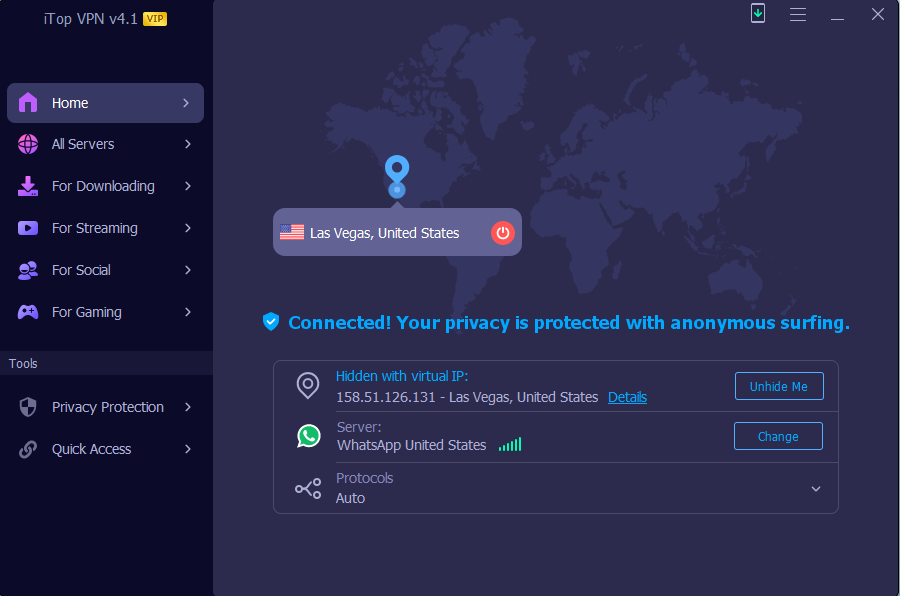 Top Features of iTop VPN
Fast Speeds
One of the top features of iTop VPN is its fast speeds. The VPN uses high-speed servers located around the world, so you can always expect a fast and reliable connection. Additionally, the VPN uses military-grade encryption to keep your data safe and secure.
No Logging
Another great feature of iTop VPN is that it does not keep logs of your activity. This means that your privacy is always protected, as your data will never be stored or shared with anyone.
Unlimited Bandwidth
iTop VPN also offers unlimited bandwidth, so you can browse the internet and stream video without ever having to worry about exceeding your data limit.
24/7 Customer Support
If you ever have any issues with iTop VPN, you can always contact their customer support team for help. The team is available 24/7, so you can always get the assistance you need.
Compatible with Multiple Devices
iTop VPN can be used on multiple devices, including laptops, smartphones, and tablets. It also supports various operating systems, such as Windows, Mac, iOS, and Android.
Overall, iTop VPN is a great option for accessing NHL content and offers many useful features to enhance your streaming experience. Get it now and never miss another game!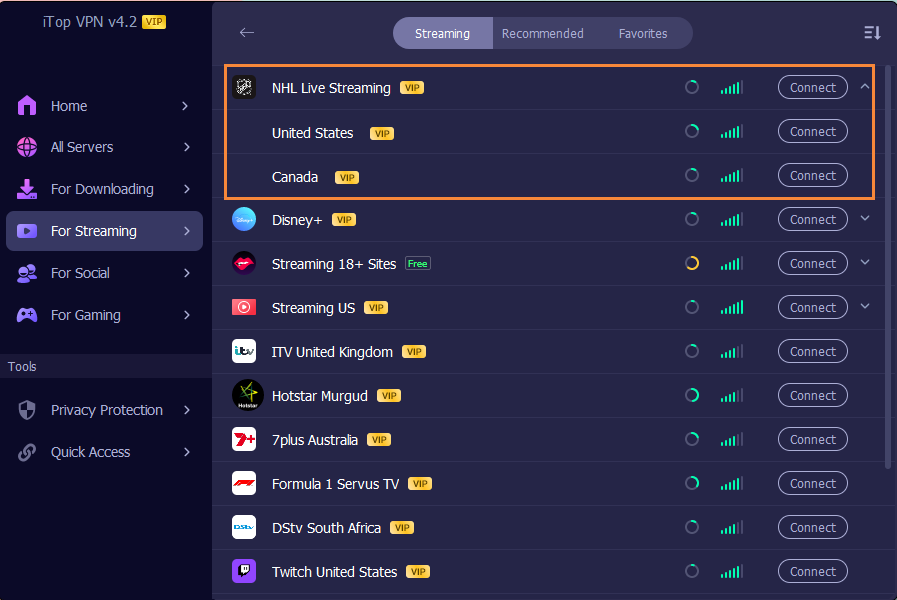 How to Watch NHL Outside America?
You love hockey, but the games are only available in the US.
The NHL has exclusive broadcasting rights in the United States, so if you're not living there or don't have a cable subscription, you're out of luck.
With iTop VPN you can watch every NHL game live, without having to worry about geo-restrictions. iTop VPN service is fast, reliable, and easy to use, so you'll be able to enjoy the games without any interruptions.
Here's a simple guide on how to do it:
Download and install iTop VPN on your device.
Connect to a server location in the US or Canada.
Go to the website or app of your preferred sports streaming service.
Log in or sign up for an account.
Search for NHL games and enjoy watching!
Don't forget to disconnect from the VPN when you're done to ensure your online safety and privacy.
Conclusion
Using a VPN is the best way to access NHL content and watch every game live, even if you're not in the US or Canada. iTop VPN offers free VPN services, fast speed, unlimited bandwidth, and 24/7 customer support to enhance your streaming experience.
So, what are you waiting for? Get iTop VPN now and never miss another hockey game!