UPDATE: Unfortunately, this project has been discontinued and WhatIsMySEORank is no more owned by us.
We're excited to announce our new project 'WhatIsMySEORank' which has been finally launched and can be used for Free. WIMSR is an online, easy-to-use tool that allows anyone to simply check their website or blog posts ranking in Google search results for a specific keyword or search query. A Bookmarklet is also available that makes it much easier to find ranking of any webpage. Read the detailed description after the jump.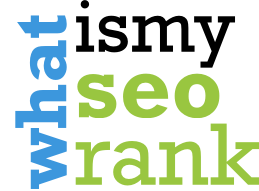 Site Link:
– Main Page (Click on the image to view in full size)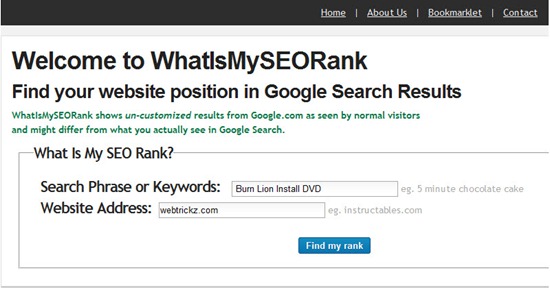 – Results page

(Cross-posted on the WIMSR About Us Page)
WhatIsMySEORank (abbreviated as WIMSR), is an entirely new and unique concept developed specially for webmasters and bloggers. WIMSR provides a simple, fast and effective way to check you site ranking in Google search results (Google.com), which if done manually can take a lot of time, assuming your site is not listed on the first few pages. This online tool is 100% Free to use and doesn't requires any registration.
Why use WIMSR?
Certainly, you will think 'What's the use of this tool? It'll not change my site rankings in search and wont place it on top'. That's quite true but this service tells how well your site is performing in Google Search, which is the most influential source of organic traffic. Considering the results, you can improve the article SEO (Tile, Description, Keywords) and try your best to make it rank better if you feel it deserves that. The tool states on which page your site is appearing and at which position. We've also designed a Bookmarklet for WIMSR, that reads the title and website address to quickly show the ranking for any webpage.
WhatIsMySEORank shows the results from Google's search global domain 'Google.com'. Hence, you might not see exactly the same results as you see on your regional Google search domain like google.co.in or google.co.uk. Results might also differ by a fair extent even if you try them on google.com because Google shows slightly different results based on your geographic location. Such thing happens very rarely though!
Points to note:
1. Does not include + More results (Show more results from xyz)
2. Ignores Starred Results to provide most accurate results
3. Results appearing beyond first 100 results of Google are not listed in results
4. Considers 10 results on a single page (by default in Google)
Owners – Pratyush Mittal and Mayur Agarwal
WIMSR is an original idea thought by us a year ago but came into existence now. Please try our tool and do give your suggestions if any.
>> We will continue to improve this tool. Do try it out and share your views below. 🙂