What's New coming In Windows Vista SP2 ?

If you are waiting eagerly for the upcoming Windows Vista Service Pack 2, then here is some good news for you. You will find below the latest changes coming along in Vista SP2 along with its release schedule.
Service Pack 2 is a single service pack which will update both Windows Vista and Windows Server 2008 products. In addition to previously released updates, it will include support for new types of hardware and several emerging standards.
See What's New In Windows Vista SP2 ?
Adds Windows Search 4.0 for faster and improved relevancy in searches.
Contains the Bluetooth® 2.1 Feature Pack supporting the most recent specification for Bluetooth Technology.
Ability to record data on to Blu-Ray™ media natively in Windows Vista.
Adds Windows Connect Now (WCN) to simplify Wi-Fi Configuration.
Enables the exFAT file system to support Coordinated Universal Time (UTC) timestamps, which allows correct file synchronization across time zones.
New! Adds support for new 64-bit CPUs from VIA Technologies.
New! Improves performance for Wi-Fi connection after resuming from sleep mode.
New! Adds new capabilities to DirectX, and increasing reliability. The graphics experience will be greatly improved for gamers.
New! Improves audio and video performance for streaming high-definition content.
New! Improves Windows Media Center (WMC) in content protection for TV.
Make your RSS feeds sidebar gadget work faster and better.
SP2 also includes a 'Service Pack Clean-up Tool'. This will permanently delete old versions of files SP2 is updating, helping to reduce clutter and get rid of outdated system files and saving disk space.
Windows Vista SP2 Latest Release Schedule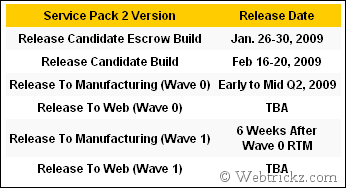 The final RTM build has now been delayed till early mid Q2, 2009. That means it will arrive either in April or early May.
Source – Tech ARP