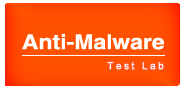 The biggest mistake which most Windows users commit is, installing an Antivirus software without knowing or finding out its efficiency to work. If you're confused off thinking which Antivirus is best for you, then you must check the latest test results from Anti-Malware Test Lab.
The objective of this test is to check personal antiviruses for their capacity to detect and remove malware successfully (without interfering with operation system operability) after it penetrated into your computer, started acting and hid its activity.
A total of 17 Antivirus products took part in the test, out of which none of them won Platinum Malware Treatment Award. As you can see in below chart, only 6 of 17 tested antiviruses showed good results in active infection healing.
Antivirus

Award

%healed

Dr.Web Anti-Virus 5.0

 
Gold Malware Treatment Award

81%

Kaspersky Anti-Virus 2010

Avast! Professional Edition 4.8

 


Silver Malware Treatment Award

63%

Microsoft Security Essentials 1.0

Norton AntiVirus 2010

 
Bronze Malware Treatment Award

56%

F-Secure Anti-Virus 2010

44%

Panda Antivirus 2010

Failed

38%

AVG Anti-Virus & Anti-Spyware 9.0

31%

Avira AntiVir PE Premium 8.1

Sophos Anti-Virus 9.0

Trend Micro Antivirus plus Antispyware 2009

BitDefender Antivirus 2009

25%

Eset NOD32 Antivirus 4.0

McAfee VirusScan Plus 2010

19%

Comodo Antivirus 3.13

13%

Outpost Antivirus Pro 2009

VBA32 Antivirus 3.12

6%
You can download the test results in Microsoft Excel or PDF formats. Hope this list will help you in choosing the best, powerful, and effective Antivirus for your system 😀
Check the full Report by Anti-Malware Test Lab here.