Today, I'm excited to review the popular and useful series of products from Audials One. Their product supplies with music and video entertainment, by allowing download free and legal media. The set of handy tools allows to remove DRM copy-protection and edit media.

Audials One
You get instant access to over 20,000 Internet radio stations with AudialsOne. It is the best solution for getting music, podcasts, and videos from the Internet. It brings the same digital quality to the music as offered by music stores. You can easily create ringtones, play audio, synchronize music, and burn media on CD/DVDs.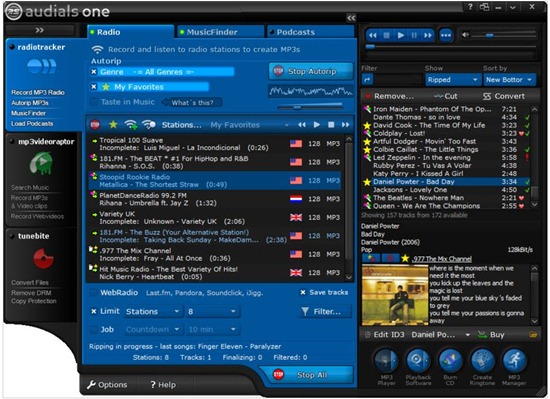 Audials One is an All in One package which includes Radiotracker, mp3videoraptor, and Tunebite. You can also get these products individually.
AudialsOne Highlights:
Download over 22,500 MP3s overnight
MusicFinder Internet radio recorder
Music video downloads
Web video recorder
DRM copy-protection remover
Universal Audio and video converter
Radiotracker
It's the best way to record songs from web radio stations and audio streams on the Internet and save them in MP3 format. It covers Music from 70,000 artists, 20,000 Internet radio stations, and 80 music genres!
Radiotracker is a real MP3 MusicFinder that monitors 2000+ Web radio stations simultaneously. It also provides superior music quality having bit rates of 192, 256, or even 320 kbps. You can edit music tracks, ID3 tags, burn media or transfer your tracks to music devices.
– Podcasts are recorded audio and video entertainment broadcasts. You can subscribe for free and automatically download them. Radiotracker offers you fast, direct access to the podcasts that suit your taste best.
Tunebite
Tunebite is the most useful app which allows you to remove DRM copy-protection from your music legally. Now you can convert audio and video to MP3 formats and enjoy them in your car, music players, mobiles, etc. It supports standard audio formats like MP3, WMA, M4A, AC3, OGG, and video formats like MPEG 4, WMV, AVI, XVID, FLV, and more.
Tunebite's Extra Editor, lets you edit and create your own ringtones from music files to use on your mobile phones.
All the above products from Audials have a simple, easy-to-use, and intuitive interface.
Win 3 License Keys of Radiotracker Platinum
You can win a genuine license key of Radiotracker Platinum worth $39.90 each, sponsored by Audials One.
How to Win?
Just tweet about this contest and leave a comment below along with your tweet status.
If you do not have a Twitter account, leave a comment as to why you want to win a license of Radiotracker Platinum.
Winners will be chosen randomly and results will be announced on June 24.
Do give a tryout to the above-mentioned useful products by using their free demos.
UPDATE:  Winners Announced  (This giveaway is now closed)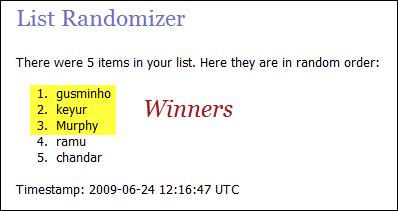 Congrats to gusminho, keyur, and Murphy for winning this competition. I'll be sending the license keys of Radiotracker Platinum to your email address.