Windows 7 Family Pack pricing announced !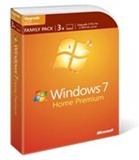 Microsoft is providing a better solution for homes with multiple PCs with their Windows 7 Family Pack. It is now confirmed that a family pack of Windows 7 Home Premium will be offered which will allow installation on up to 3 PCs.
It is really useful if you want to run Windows 7 on more than one PC on a home network, and share files, music and photos with your family easily.
The Windows 7 Family Pack will be available starting on October 22nd until supplies last here in the US and other select markets. In the US, the price for the Windows 7 Family Pack will be $149.99 for 3 Windows 7 Home Premium licenses.
Its a great value pack as you can save more than $200 for three licenses.