Microsoft has finally released the much awaited update for Windows 8 in an event at Barcelona, following the initial release of Windows 8 Developer Preview in late 2011. Windows 8 Consumer Preview is available to everyone for free who wants to try it out. With Windows 8, the whole experience of Windows has been re-imagined and it offers a more robust experience. This brand new OS is designed to work on a variety of devices, ranging from touch-enabled tablets, to laptops, desktops, etc. Download it now to try and experience the new features and included apps at no cost!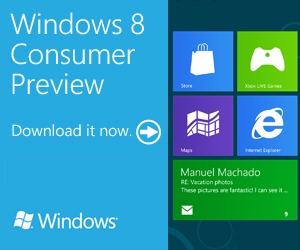 The doors for "Windows Store" (currently in beta) has also been opened with the availability of Windows 8 Consumer Preview. The store serves various new Metro style apps from both third-party developers and Microsoft. It's available worldwide for download in English, French, German, Japanese and simplified Chinese languages.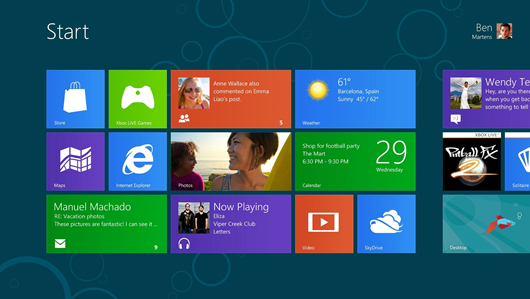 Windows 8 Consumer Preview [Video]
Video: Windows 8 Consumer Preview Official Demo
Windows 8 Consumer Preview System Requirements:
1 GHz or faster processor
1 GB RAM (32-bit) or 2 GB RAM (64-bit)
16 GB available hard disk space (32-bit) or 20 GB (64-bit)
DirectX 9 graphics device with WDDM 1.0 or higher driver
1024 x 768 minimum screen resolution
>> It should be noted that Windows 8 Consumer Preview is a pre-release version of Windows 8 that may encounter bugs. Hence, it's recommended not to use it as your primary OS but for testing purposes and providing your feedback.
Download Windows 8 Consumer Preview at http://preview.windows.com or visit http://windows.microsoft.com/en-US/windows-8/iso for its ISO images, available in both 32-bit (x86) and 64-bit (x64). The product key is meant to activate your beta copy.
32-bit (x86) [Size: 2.5 GB]
64-bit (x64) [Size: 3.3 GB]
Product Key:  DNJXJ-7XBW8-2378T-X22TX-BKG7J  (English)
Check below references articles for detailed information:
Microsoft Announces Availability of Windows 8 Consumer Preview
Introducing Windows 8 Consumer Preview