Microsoft has introduced a cloud based service 'Windows Intune' currently in Beta which lets small and mid size businesses, control PC management and security Online.
Windows Intune simplifies how businesses manage and secure PCs using Windows cloud services and Windows 7 — so your computers and users can operate at peak performance. It delivers cloud-based management and security capabilities that can be administered through a single Web-based console, enabling end users and IT staff to work from virtually anywhere – using an Internet connection.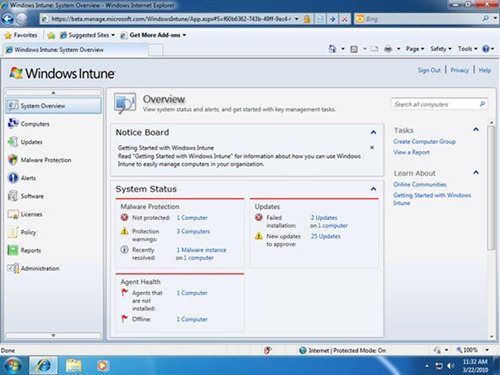 Top 10 benefits of Windows Intune
Help manage and secure your PCs from virtually anywhere.
Get the best Windows experience.
Achieve big-tech results with a small-tech investment.
Stop malware threats before they stop you.
Keep your PCs up-to-date.
Identify issues before they impact business.
Easily track your assets and manage licenses.
Turn to advanced tools for tougher issues.
Diagnose and repair even unbootable PCs.
A cloud you can count on.
The public beta of Windows Intune has been made available to 1,000 customers and IT partners in the US, Canada, Mexico and Puerto Rico.