The Wireless (Wi-Fi) Routers and modems have the option to configure the security features of the wireless LAN interface. It is advisable to use a good Network Authentication along with a strong WPA or WEP encryption key to secure your wireless network.
Wireless Key Generator is a free and portable program, which allows users to easily Generate Secure Random Keys for Wireless Networks. It can generate keys for WEP, WPA (1/2), as well as custom length general-purpose keys. It uses all available characters, including symbols, upper/lowercase letters, and numbers.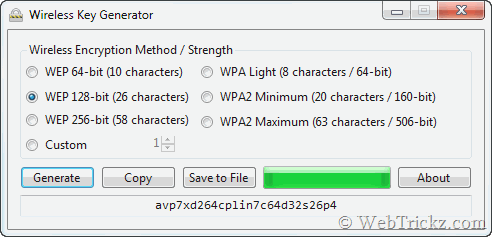 – Requires Microsoft .NET Framework 3.5 and Windows XP/2003/2008/Vista/Windows 7. Runs natively on both x86 (32-bit) and x64 (64-bit).