Wise Disk Cleaner is a free, fast and easy to use application to free up disk space by deleting junk files that are no longer used by any software on your system. It removes files of all kinds, such as temporary files that applications don't delete when they're no longer needed, and various log files, index files and backup files.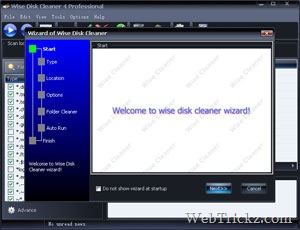 Wise Disk Cleaner can identify more than 50 types of junk files. The program only
deletes the files that you tell it to. You can choose to permanently delete the files, or move first to the Recycle Bin. The program can do the cleanup automatically, or you can do it manually.
You'll be amazed at how much hard disk space this program can gain for you, so you can automatically get back plenty of hard disk space. This also helps in increasing your PC's performance.
Download Wise Disk Cleaner Free  (2.85MB)
You may also want to try out Wise Registry Cleaner 4 Free