We all know MIUI is one the most widely adopted and one of the best custom ROMs of Android. While it is rich in features and looks to be an outright copy of iOS, it does bring in lots of things that make meaningful features that enhance the user's life and adds value to the day-to-day life. One thing users have always whined about MIUI is the fact that they are always way too late in moving to the latest version of Android but finally, they can rejoice – MIUI now moves to version 7, to Android Lollipop 5.1.1 and will now be available globally for many devices. It was globally launched at an event in Delhi that had fans and users flown in from many parts of the world! Let's look at the top features that MIUI 7 brings in and how good it is an upgrade from MIUI 6:
More colors, more vibrant: This is one aspect that MIUI is loved for – colors everywhere! each icon, each popup, transition, and even something as rudimentary as deleting an app is made so colorful. We saw this in MIUI 6 and Xiaomi will continue to make the OS more colorful and vibrant in MIUI 7. For example, the camera app icon has a blue and green strip on it! the mountains on the Gallery app have a new shade. You will only fall in love with all of these.
Enhanced Settings menu: As an OS evolves there are more and more items coming into play within the Settings app as you're trying to offer more and more options to the users to personalize and customize the phone to their liking and needs. What MIUI 7 brings is enhanced logical grouping of options into specific sections that will help the user to get to where they want faster and easier.
Child Mode: While we have seen the "Lite Mode" on the MIUI that basically helps the elderly folks with bigger icons and simplified options, MIUI 7 brings in the CHILD MODE and this is more towards bringing in restrictions to the content that you may not want the kids to look at. This includes a dedicated setup of wallpapers and icon arrangements that will make it easier for the kids to use the phone.
Enhanced Gallery App: MIUI 7 brings in a face detection feature and makes use of this to automatically SORT the pictures inside the Gallery app – now how cool is that! It's not just humans but it can also sort pets and am sure tons of us would love this. If someone asked you to share the pics of your dog Brad, just get to the Gallery app and select the sorted ones and quick share.
Faster and zippy UI: MIUI is always rich in transitions and animations. While this enhances one's experience it comes at a cost – degrade the performance of the system and MIUI is known to be very bad when it comes to handling the RAM. All of this slows things down from launching an app to coming back to the home screen. MIUI 7 seems to be answering these issues by improving the response times by as much as 30% by optimizing the CPU scheduling mechanism, stringent app management in the background, and effective usage of data, wifi, and location services for the apps. Xiaomi has tied up with Opera's Data Compression technology to make some of this happen. All of this will increase the battery life by as much as 10%, claims Xiaomi.

Better and Smarter UI: While MIUI 7 brings in options to increase the font size to XXL size to cater to the elderly folks, it also brings in lots of intelligent things like IVR Guidance with which you will no more require to listen to the entire speech of many services that need to select a series of options that can drag you into lots of minutes literally! Closer integration with Mi Band that puts the phone into DND mode when it detects you've fallen asleep and sending in a 5-second video snippet as a surprise when you call someone! All of these small things bring in lots of sense to the UI making it smarter for the user.
Themes and personalisation: Yes we kept this for the last! If not a zillion themes in its store, what is MIUI! MIUI 7 takes the themes to a completely new level – allows for creating your own theme with an all-new option called MUSE. It is very simple to use and any non-technical person can create their own theme – this sounds too cool and we cannot wait to test this out. MIUI 7 also brings in new flavors that can be considered themes but not exactly themes. Picking one of the High Life, Rose UI, Pink Blush, Ocean Breeze will change the full look and feel of the UI and use this to suit your moods or if you are a lady who want to match the pink accessories you may have.
These are just the top 7 features of the 7th version of MIUI that we wanted to talk about! There are tons of other features like 10 new lock screens that change on their own, new themes, and such. We will bring in more details after we get a chance to test the MIUI 7 ourselves in greater detail. So the "Beta" version of the OS would start rolling out to the following devices from August 24 which is the next Monday – Redmi 1s, Redmi 2, Mi 3, Mi 4, Mi 4i, Redmi Note 3G, and 4G. Mi Pad is NOT going to be a part of this.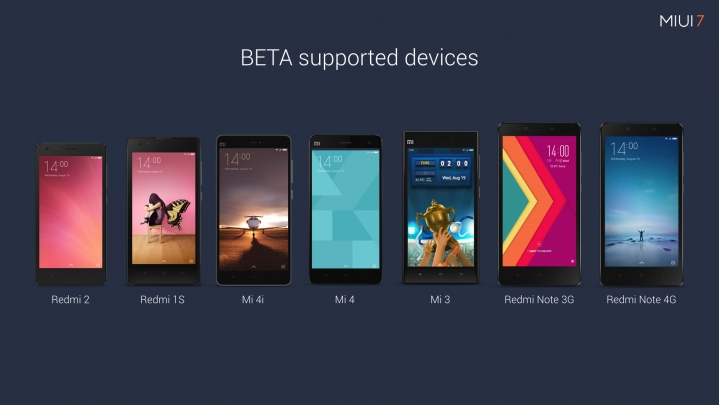 Be warned that while the above devices do get MIUI 7, some of them are KitKat based while others are Lollipop based which is really a bummer. Is this to push the sales of the latest devices or a real limitation on the part of the SoC manufacturers, we are yet to find out.