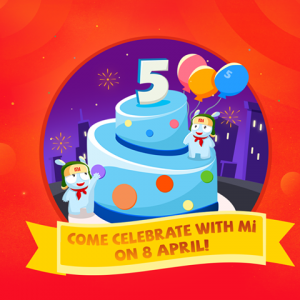 Xiaomi has turned 5 years and wants to celebrate this in a grand way! And why not, for a company just 5 years old, they've rocked big sharks like Samsung and Apple off the charts across multiple avenues, at least for some time. They've tasted a huge success in India and they've changed the rules of the game and set trends for the rest to follow. But the biggest change they made was the mindsets of people – the notion of Flagship Killers. In kicking off the grand celebrations, Xiaomi is throwing parties, giving away gifts to fans, and more importantly lots of changes to the way it will run its show on many things for tomorrow in India, all as a part of the Mi Fan Festival (#MiFanFest) much like a Google Online Shopping Festival.
Following are the list of offers exclusively for Indians:
Mi will start selling on Amazon and Snapdeal, in addition to Flipkart. This is rather a surprising move after all the news we heard about Mi.com, Xiaomi's own eCom portal that has already started selling a few of its products in India and across the world. We will have to wait and see how this strategy works but it is definitely an interesting time. While Amazon and Flipkart are known for their good services, Snapdeal off late has been in the bad books for making mistakes ranging from trivial to drastic, which has eventually led to very low trust. They became infamous for shipping a soap instead of a mobile.

Mi 4 – special discount for one day only: Get Rs. 2,000 off on any Mi 4 purchased on April 8 only. Mi 4 (16GB) will be available for Rs. 17,999 (usually priced at Rs. 19,999) and Mi 4 (64GB) will go for Rs. 21,999 (usually priced at Rs. 23,999). Lots of fans were disappointed when the Mi4 was launched at 19,999 INR and went furious too! Seeing this price cut in such a short time, regardless of the offer being valid for a day is going to make them more furious! We are sure many would be heard shouting for a 2,000INR refund! China too saw a permanent price cut on the Mi4. So all those who dropped the idea of a Mi4 for the price, go grab this tomorrow!

Redmi Note 4G – free Mi Power Bank or Mi In-Ear Headphones for one day only: Receive a free set of Mi In-ear Headphones with a Redmi Note 4G purchased from online partners – Flipkart, Snapdeal, and Amazon. Get a 5200mAh Mi Power Bank free with Redmi Note 4G purchased from offline partners – Airtel and The Mobile Store. This is a great deal especially if you end up getting the Mi Power bank. This will revive the sales of the Redmi Note 4G for sure we reckon.

Redmi 2 – open sale with no registrations: Redmi 2 will be available across all partners – Flipkart, Snapdeal, Amazon, and The Mobile Store.

Mi Pad is back – open sale with no registrations: Purchase the popular Mi Pad across all online partners – Flipkart, Snapdeal, and Amazon.

All the offers are valid from April 8, 12 noon, and last till midnight.

In addition, Mi products are also available in offline retail channels through Airtel and The Mobile Store
So looks like Mi India has been working really hard in the last few months to achieve all of the above.
Phew! who would have anticipated this, Xiaomi going all guns with all of the major eCommerce giants in India, throwing away a Mi Power bank! price cut on the Mi 4. While many may whine and complain about having already bought these, there will be much much more who will make use of these deals and walk away happy on Mi Fan Festival and join them in celebrations. This is a good move as it shows Mi really cares for its fans and is ready to bring them in as a part of the celebrations though it will end up making the earlier buyers sad – but that is the way the game works, you get some you lose some. Tell us what you feel about all this and let us know if you have any questions. In the meanwhile, we leave you with a video that Mi India has created to send across a message for you. Watch it here 🙂