WebTrickz.com was started in April 2008 under Blogger and was later on shifted to WordPress in September 2008. It is a popular tech blog comprising 2000+ articles related to News, Reviews, iPhone, Android, Social Media, Windows, Mac, Apps, Software, How To's, Tips, Security, and much more.
This blog attracts over 90% organic traffic from search engines and the remaining from direct links, referring sites, and social media.
Why Advertise Here?
Advertisers and software developers have a nice opportunity to promote their useful products over the web by advertising on our site. The site is updated frequently with new and fresh articles which aim to benefit our readers.
Ad Placement & Ad Sizes –
Ads can be neatly placed over all the blog pages like in the Header, Right Sidebar, above or after post content, and in Footer. Text, Image, and Flash ads are supported*
300×250 Ad box (in the sidebar or after post)
300×100 Medium Rectangle (in the sidebar)
468×60 Banner (in the header or after post)
125×125 ad boxes (in the sidebar)
728×90 Leatherboard (in the Footer)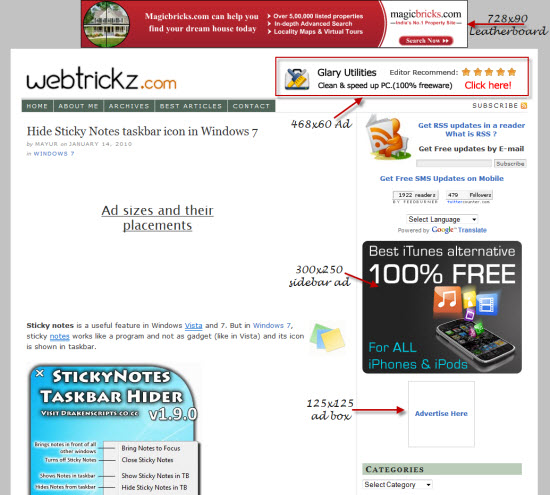 Do mail us if you prefer any other ad sizes or ad placements. Payments can be made through PayPal (Indian advertisers can also pay via online bank transfer). The Ad rates for their specified sizes will be quoted after you contact us.
Advertisers can contact us via email at mayur(at)webtrickz.com or use our Contact form.
You can also ask us to organize a Review or a Giveaway.
*Ads must be related to our content.