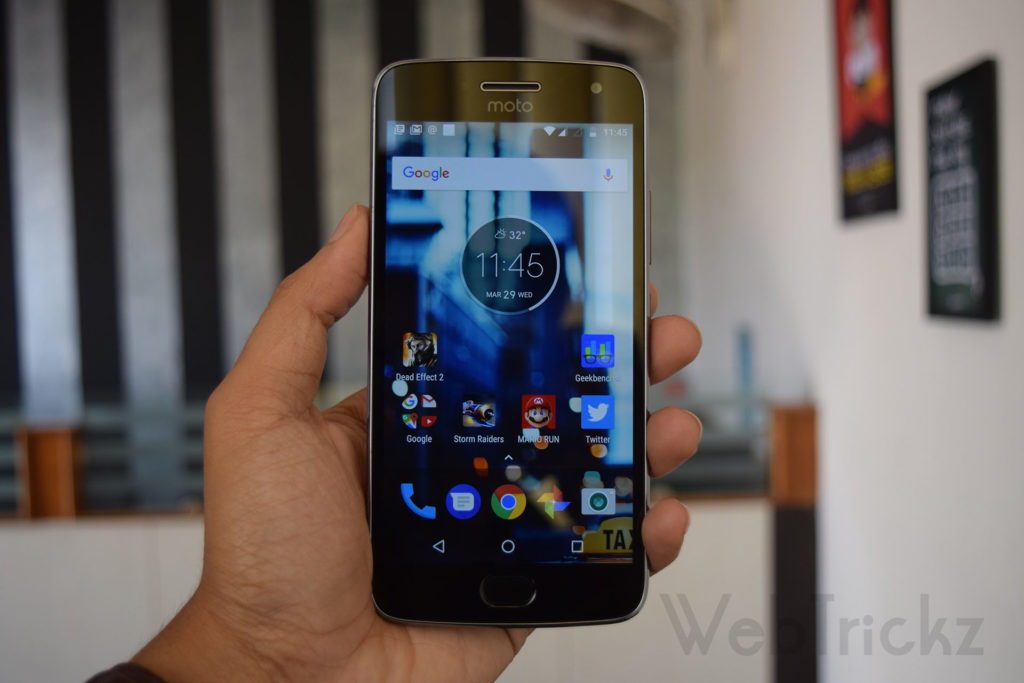 When the Moto G was launched back in 2013, the smartphone got tagged as "poor man's Nexus", mainly because it aimed at offering a stock Android experience combined with decent hardware at an affordable price. Ever since, the Moto G series has evolved a lot in terms of design, performance, and overall user experience. The latest one to join the league is "Moto G5 Plus", which was announced at MWC 2017 and soon made its way to India.
Compared to the previous generation Moto G phones, the G5 Plus has seen a major design facelift as Lenovo-owned Motorola tries hard to make it premium looking with a metal body. The device also ships with a Fingerprint sensor, NFC, power-efficient chipset, a capable camera, and runs on Nougat out of the box. Now it would be interesting to find out if the Moto G5 Plus is a value offering in the mid-range category, especially in India which is vastly dominated by Chinese players that offer some great hardware innards at aggressive pricing. Let's find out!
Before proceeding, note that the Moto G5 Plus comes in two variants – one with 3GB RAM and 16GB storage and the higher one that we tested comes with 4GB RAM and 32GB storage. The former model costs Rs. 14,999 in India whereas the latter 4GB model is priced at Rs. 16,999.
| | |
| --- | --- |
| Pros | Cons |
| Good build quality | Big bezels and use of plastic |
| Display looks great | The camera doesn't meet the expectations |
| Impressive battery life | Sub-par audio output and quality |
| Smooth performance and Clean UI | No LED light indicator |
| Fast and accurate Fingerprint sensor | Old micro-USB port instead of Type-C |
| Dedicated slot for microSD card | Lesser storage, compared to US version |
Design and Feel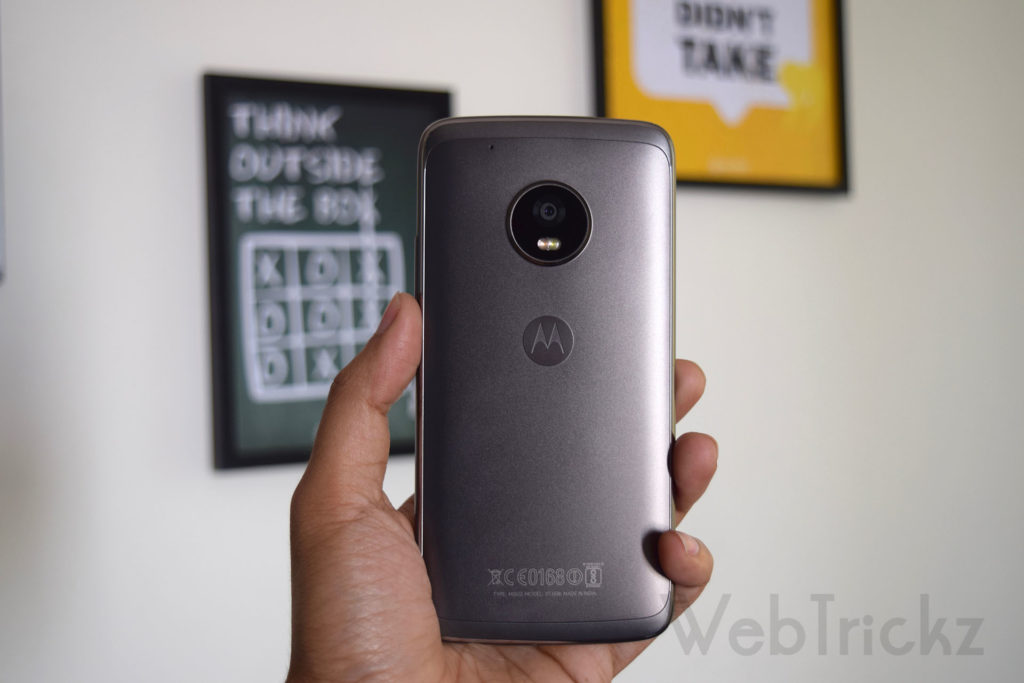 The design and build material is one area in which the Moto G5 Plus has definitely been redefined. Unlike older Moto G phones that packed a polycarbonate body, Lenovo has added metal to the G5 Plus perhaps to make it look premium altogether and combat with Chinese phones, packing a metal body. At first glance, the device can be easily mistaken for a full metal unibody phone but that's not the fact. The G5's frame is actually made of high-quality plastic that feels sturdy and has a smooth metallic finish that blends well with the overall body. The frame has shiny chrome edges at the front and back that look a little cheap, whereas the top and bottom portions at the back probably hide the antenna bands. The backplate made of aluminium carries a smooth matte finish that feels nice but is quite slippery. Unlike the Moto G5, the G5 Plus' back cover isn't removable. Like other Moto devices, this one too comes with a nano-coating to protect the phone from accidental water splashes.
The front is dominated by an earpiece that also combines the loudspeaker and below it, you'll find the Moto branding. Sadly, the device has relatively bigger bezels and there is no LED notification light. The oval-shaped Fingerprint sensor resides at the bottom and thankfully it's bigger and looks way better than the one on Moto G4 Plus. A textured power key and volume rocker are there on the right side that offers decent tactile feedback. The top holds the SIM tray with a smart mechanism, offering the ability to use two nano SIMs and a microSD card simultaneously, unlike the Hybrid SIM tray. Motorola has opted for a regular microUSB charging port instead of Type-C that sits along with the 3.5mm audio jack at the bottom.
Move to the back and you'll straight away spot the big-sized circular camera module that is highly identical to the Moto Z series. Unlike the G5, the camera piece on G5 Plus is protruding that results in wobbling while using the handset on a flat surface. Right below the camera, there is a slightly raised Moto logo. What's surprising is that despite packing a 5.2″ display, the G5 Plus isn't relatively smaller in dimensions and weighs the same as its predecessor, G4 Plus. The device misses out on the commonly used 2.5D curved glass for display and doesn't offer the best grip, which wasn't the case with older Moto's having a rubberized back. Also, I personally wish it had the waterproofing capability as seen on G3. Overall, the phone is comfortable to hold and looks good but we didn't find the design to be remarkable. That said, the Lunar Grey colour of the G5 looks much better and premium as compared to Fine Gold.
Display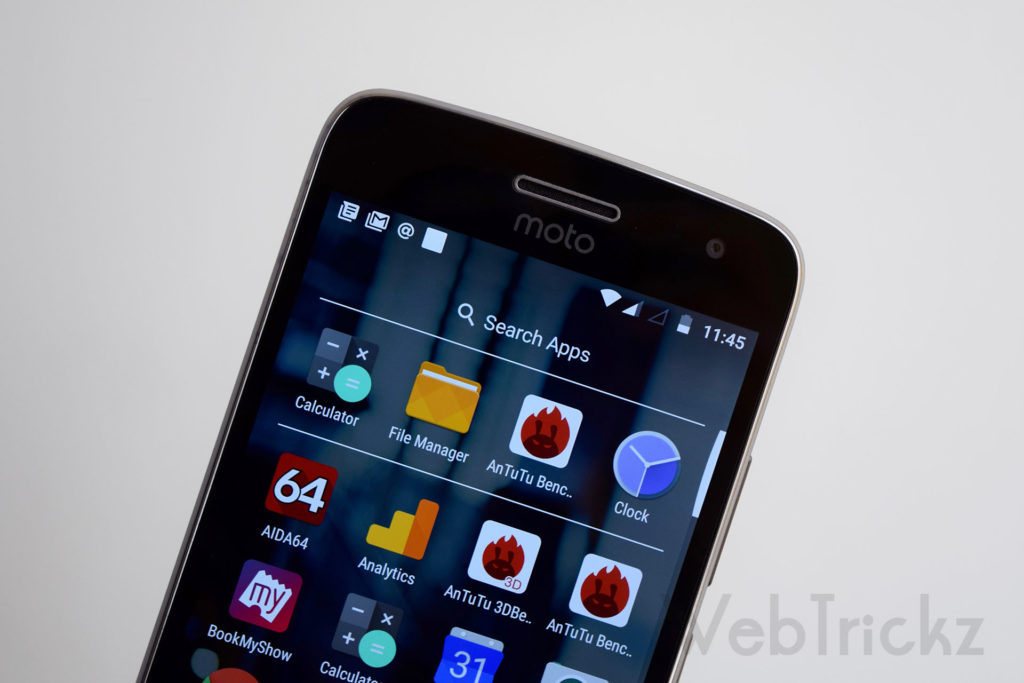 The Moto G5 Plus sports a 5.2-inch display with Gorilla Glass 3 protection, whereas the standard G5 sports a 5-inch screen. It's kinda surprising why Moto moved to a smaller display on both the devices when both the Moto G4 models had 5.5-inch displays. Nevertheless, the 5.2″ screen on G5 Plus is an ideal screen size which also makes the device compact. The display is one of the best aspects of G5 Plus which is a Full HD IPS panel with a good pixel density of 424ppi. The 1080p display looks sharp, vivid, and the brightness is also very good, such that we didn't find the need to increase the brightness level beyond 50 percent (with the adaptive brightness turned off). The viewing angles are fantastic and we had no issues while viewing the screen under direct sunlight. The colour saturation is great resulting in accurate colours and users can optionally switch to the "vibrant" display mode for an enhanced colour tone. We found the touch to be responsive and smooth, and there was no ghost touch or screen burn issue as complained by most Moto G4 Plus users.
As usual, the G5 Plus comes with on-screen keys for navigation but with an added flavour. Moto has included an option to turn off the on-screen buttons and lets you navigate via certain gestures using the Fingerprint scanner. This is a neat addition that results in more screen space, we'll cover it in detail below. Overall, the display is simply impressive that makes for a great experience while watching movies and playing games.
Software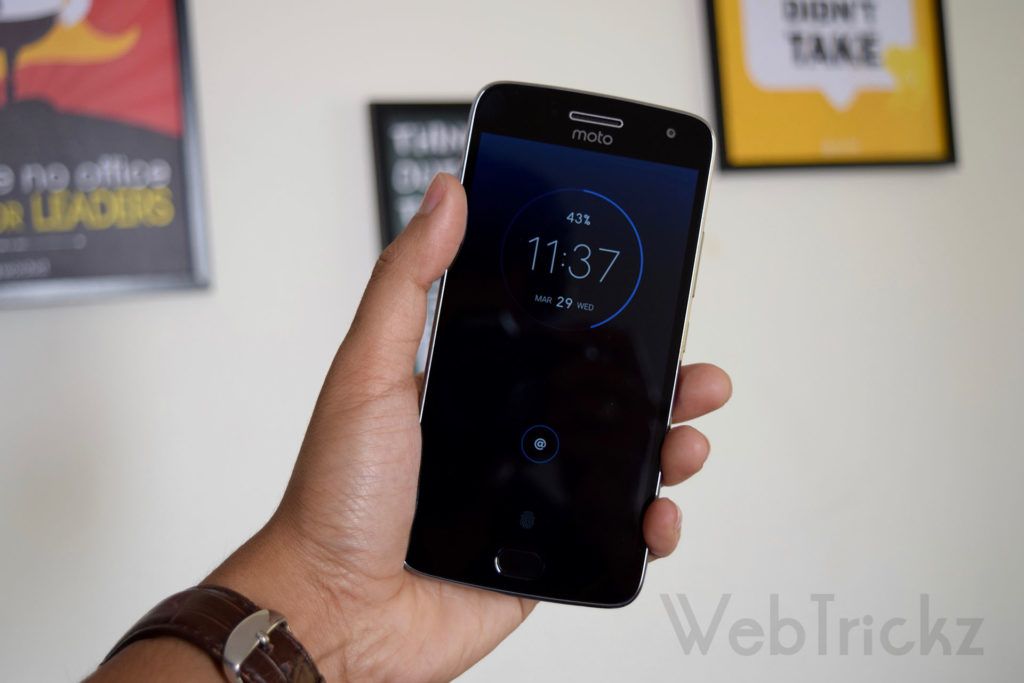 The Moto G5 Plus ships with Android 7.0 Nougat and January 2017 security patch. As for what Moto phones are known for, the software delivers a near-to-stock Android experience without any bloatware or a redesigned user interface. However, quick software updates were guaranteed when Motorola was under Google but that's not the case ever since Lenovo acquired Motorola. The promised timely updates and Android security patches aren't that frequent now, which is disappointing!
With Nougat on board, the G5 Plus gets bundled notifications, multi-window support, quick app switching via multitasking key, the ability to rearrange quick setting tiles, a Clear All option to close all open apps, adjust display size, and a new settings app. The device supports "Google Assistant" which is accessible by long-tapping the home key (make sure Google app is updated to get it working). Google Now sits on the left of the main home screen. We liked the Pixel-like app launcher, which lets you simply access the app drawer by swiping up the dock which now sports a nice translucent background.
The G5 Plus also features Moto's interesting software customizations – Display and Actions. Moto Display shows battery-friendly lock screen notifications that fade in and out when a user picks up or shakes the phone. This comes in handy to view time, date, the percentage of battery left, and app notifications too. With Moto Actions, you get some cool gestures like chop twice to turn on the flashlight, twist the phone to open the camera, swipe up to shrink the screen, flip to mute, and pick up to silent the ringtone. Besides that, a new action "One button nav" has been added that offers gesture controls as an alternative to on-screen buttons. With this setting enabled, users can swipe across the fingerprint scanner to navigate instead of soft keys. The swiping gestures work as follows: swipe left for back, swipe right for multitasking screen, soft tap for home function, and long-tap to open Assistant. Also, one can quickly swipe right twice to switch between recently used apps. This is certainly a neat feature that maximizes the screen space and works like a charm.
That said, the software is well optimized which results in a great performance. Lenovo has also avoided any duplicate apps by using Google's apps for say music and gallery.
Performance
Powering the Moto G5 Plus is a 2.0GHz Snapdragon 625 processor with eight Cortex A53 CPU cores and Adreno 506 GPU clocked at 650MHz. The 625 chipset manufactured on the new 14nm process is one of the best mid-end SoC, which claims to consume 35% lesser power as compared to Snapdragon 617 used on the G4 Plus. This is coupled with 3GB or 4GB RAM and 16GB or 32GB storage, depending on the variant you choose. In our review, we're testing the 4GB RAM variant. The storage is expandable up to 128GB and you get Android's adoptable storage. Out of 32GB, there is 24.5GB of space available for usage and average free RAM amounts to 1.5GB on closing all apps. The device supports NFC (not for the US version) but the International version lacks a Magnetometer or Compass, which is strange. In terms of connectivity, it supports 4G VoLTE, dual-band Wi-Fi 802.11 a/b/g/n, Bluetooth 4.2, USB OTG, and FM Radio.
As expected, the G5 Plus delivered a reliable and smooth performance during our usage. There are no lags to be noticed and multitasking is a breeze with several apps running in the background. The phone is easily capable of getting your everyday tasks done, including those requiring high resources. Moreover, there are no heating issues but we noticed the device gets warm while charging. In terms of gaming, it handles modern graphics well as graphic intensive games like Asphalt 8, Dead Effect 2, and Sky Gamblers played perfectly without any visible frame drops or occasional stutters. Again, note that we've tested this on the 4GB version of G5 Plus.
Talking of the benchmark test, the G5 Plus scored 63429 points in AnTuTu whereas, in Geekbench's 4 single-core and multi-core tests, it scored 788 and 3571 points respectively. The handset performed fine in terms of call quality and signal reception but for some reason, VoLTE didn't work and this is a known issue. Lenovo might push an update soon to fix the VoLTE bug on G5 Plus but there is a workaround to get it working.
The slightly recessed haptic fingerprint sensor on the front is very fast and high in accuracy. The sensor does a two-way job, letting you unlock the device and lock the phone too by placing your finger a bit longer on the sensor when it's awake. It allows registering up to 5 fingerprints and supports swiping gestures that we've already covered above.
Overall, the Moto G5 Plus packing a very efficient chipset combined with well-optimized software does not disappoint and left us impressed with its performance.
Camera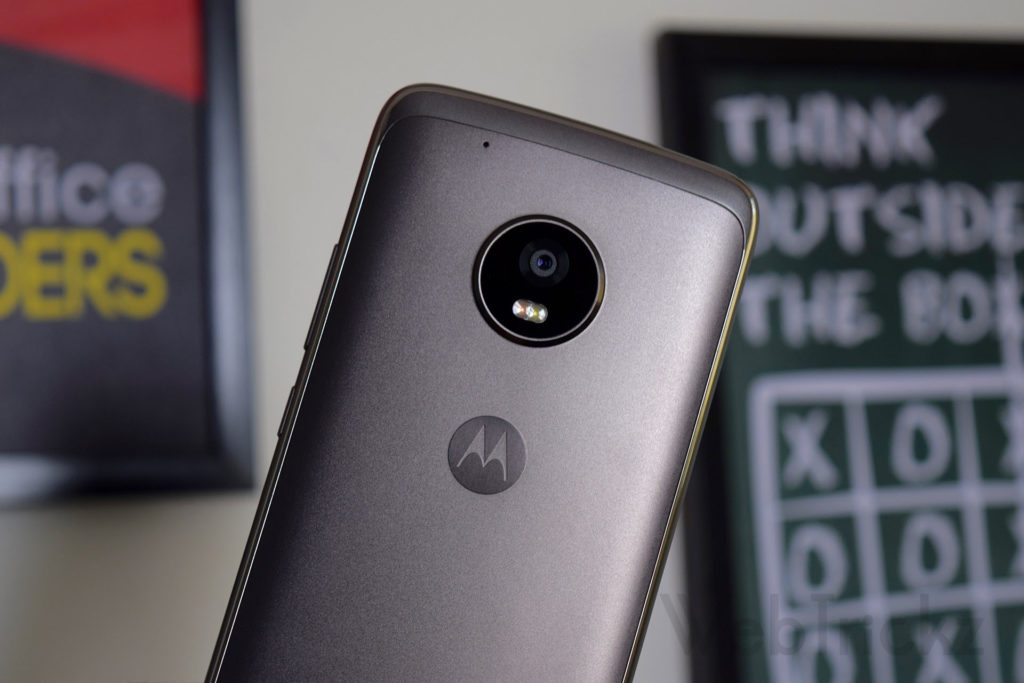 Sadly, the camera that Lenovo advertised as the most interesting aspect of the G5 Plus is its weakest point. The Moto G5 Plus comes with a 12MP rear shooter with f/1.7 aperture, dual autofocus pixels and dual-tone dual-LED flash. It lacks laser autofocus that was earlier seen in G4 Plus and Lenovo hasn't revealed the camera sensor used on G5 Plus. There are speculations that G5 Plus' camera matches the one used on Samsung Galaxy 7 but that's literally not the case.
In daylight, the shots captured look very good and crisp with a good amount of details and colour reproduction. The dynamic range especially while using HDR is great and close-up shots tend to pose a nice bokeh effect. However, as compared to the G4 Plus, the colours are less punchy and photos look a little washed out. Talking of the indoor and low-light performance, this is where the G5 Plus camera fails badly which we didn't expect. Despite having f/1.7, bigger pixels, and faster focusing, you won't get the desired results. In partially lit indoors, photos exhibit reasonable noise and focusing is iffy due to which you might end up with a blurry shot. In low-light and night conditions, it lacks consistency as sometimes we got decent captures whereas other looks noisy and blurry.
The camera app is snappy and closes automatically when left unattended. There is a Professional mode to manually adjust the white balance, exposure, shutter speed, and ISO, to take better photos. The primary camera supports 4K video recording at 30fps and Full HD recording at 30fps and 60fps. However, we noticed a lot of background noise in recorded videos which is a known issue and should be fixed via a software update.
The front camera is a 5MP shooter with an f/2.2 aperture and screen flash to take better selfies in dark. It features a beautification mode, Auto HDR, Professional mode and supports slow-motion video too. In good lighting, we good some decent selfies but the colours looked washed out and details were missing. Not to mention the high noise in low-light photos. The front camera is average at best.
Summing up, the G5 Plus camera is certainly a notch higher than other offerings in its price range but it definitely won't impress you with its indoor and low-light performance.
Moto G5 Plus Camera Samples –
Tip: View the above camera samples in their full size on Google Drive
Battery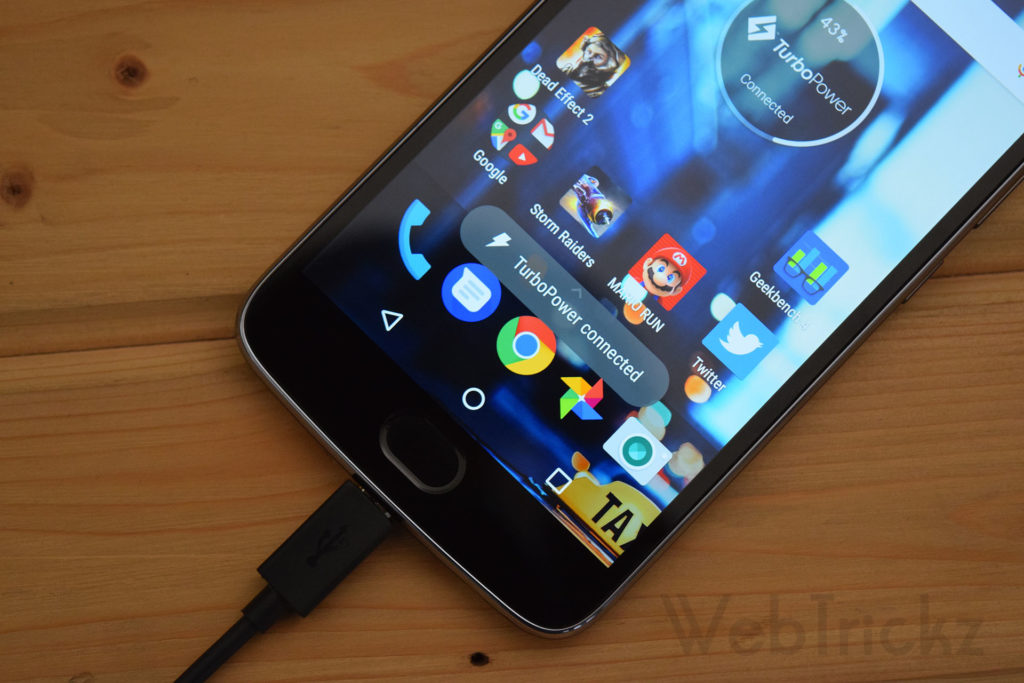 The Moto G5 Plus comes equipped with a 3000mAh battery, which is the same in the capacity as the G4 Plus. As expected, the power-efficient Snapdragon 625 processor combined with well-optimized software result in great battery life. In our first test which involved 4G data usage all day long and Wi-Fi later, we got an impressive screen-on time of 5hrs and 14hrs runtime with 25 percent charge still remaining. In the second test, the device lasted for 16hrs with a SOT of 5hrs 20m under heavy usage. Whereas under normal to heavy usage, we saw an impressive screen-on time of 6.5hrs with 31hrs of uptime. Our battery tests mainly included tasks like web browsing, camera, voice calls, email, heavy usage of social media apps, and a little gaming.
Considering our prolonged usage, we can say that the G5 Plus can easily last throughout the day under heavy usage and one can charge it worry-free during bedtime. The battery life is overall consistent and can get you 5 to 6 hours of screen-on time under normal and heavy usage.
The phone supports fast charging and a 15W TurboPower charger comes bundled that can charge the battery from 0-100% in less than an hour and a half. However, we didn't find it fast enough as it charged the battery up to 41 percent in 30 minutes while the device was powered off.
Audio Quality
The G5 Plus comes with a front-facing loudspeaker which is integrated along with the earpiece. The sound is fairly loud and the audio quality is just average. That said, one can clearly notice the distortions at the highest volume and while playing music with bass effects. The overall sound quality is certainly not on the lines of previous generation Moto G phones that featured dual front-ported speakers. It also comes with a pair of basic earphones that works just fine.
Conclusion
The Moto G5 Plus retails in India somewhere between 15-17K INR, depending on the chosen model. In its price range, the G5 Plus isn't the most affordable smartphone, especially in India but it does offer good value for your money if not the best. With the G5 Plus, you can easily expect a smooth performance, a great display, reliable battery life, an accurate fingerprint sensor, quick charging, and lastly a pure Android experience. Not to forget the solid build quality but personally, we didn't find the overall design appealing enough. The phone lacks a compass sensor but we liked the dedicated slot for storage expansion. At the same time, it has a few shortcomings, the major being the average camera performance in low-light and sub-par sound quality. Moreover, the 16GB and 32GB storage options don't justify the Indian pricing. Wrapping up, we would say that the Moto G5 Plus is an overall very good performer and a recommend buy!