Google+ has got various amazing features in a shot span of time and that's one thing I like the most about it. Recently, Google+ introduced the Share option which allows users to share a particular photo directly from the lightbox viewer to specific circles or people. Dave Cohen just announced about a new addition to Google Plus that lets you download full size photos from Google+.
Though one can easily save the picture shown in the lightbox by dragging it to desktop or using the Save image as.. option. But that would only download the small-sized picture as shown in the photo viewer. Using the new "Download photo" option, the picture will be downloaded in the highest possible resolution available with great quality. However, you may not see the download option for every photo. This happens if the uploader has disabled it to prevent everyone from getting the full resolution image.
How to use – When viewing a photo in the lightbox photo viewer, click Actions. If the photo owner has allowed downloads, you will see an option to Download Photo.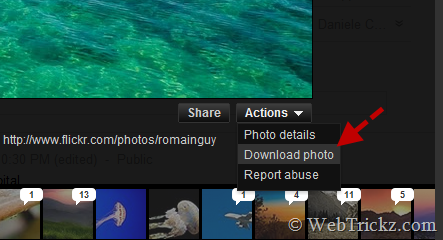 If you don't want viewers to download your photos, click the gear icon at the top right corner of G+ screen, to open Google+ Settings (https://plus.google.com/settings/plus). Scroll down the page and uncheck the 'Allow viewers to download my photos' checkbox.

Here is a nice video shared by James Lawson-Smith –
Here are some amazing high-resolution wallpapers from +Romain Guy. Try downloading them using the new download photo feature! [Link]
Do share your thoughts on this new feature! 🙂